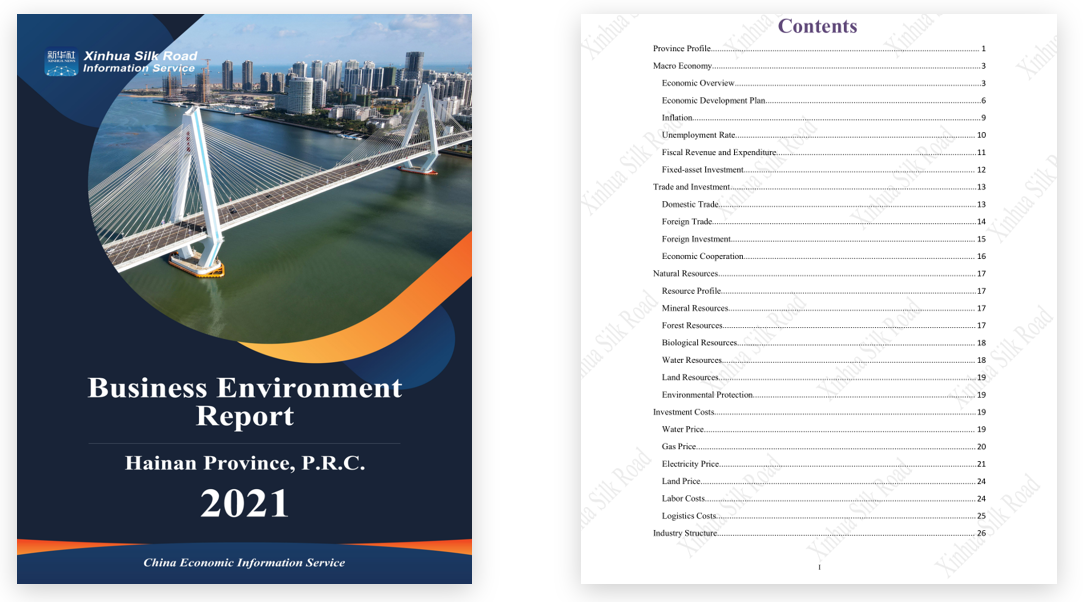 Photo shows the English-version 2021 Hainan Business Environment Report.
BEIJING, June 24 (Xinhua) -- China Economic Information Service (CEIS) released an English-version 2021 Hainan Business Environment Report at a seminar on promoting world-class business environment building and high-quality development of the Hainan free trade port (FTP) held Thursday in Haikou, capital city of south China's Hainan Province.
According to Gan Feng, deputy general manager of the Xinhua Silk Road Information Service, a Belt and Road-centered comprehensive information service platform of CEIS, based on serving the construction under the Belt and Road Initiative (BRI), the report presents the latest business environment construction of Hainan, and offers foreign investors some good insights and practical advices on entering or expanding business in the province.
He noted that the report features in up-to-date data from official sources, and involves more than ten dimensions and 50-odd indicators covering economic development, trade and investment, natural resources, industry structure, infrastructure, investment costs, investment policies, park construction, Belt and Road construction, etc., offering a panorama of Hainan's business environment with a large number of charts and tables.
Through comparison, the report finds that during the past seven years (2014-2020), Hainan has witnessed its GDP growth rate higher than the national average in five years, and in 2020, despite of the COVID-19 pandemic, Hainan's year-on-year GDP growth still registered 3.5 percent, 1.2 percentage points higher than the national average and higher than its neighboring Guangdong and Fujian provinces, which shows the resilience and vigor of Hainan's economy, said Gan.
Another feature of the report is connecting Hainan with the world and displaying Hainan's differentiated advantages to attract high-quality foreign investment, pointed out Gan, adding that it fully demonstrates Hainan's latest foreign investment and foreign trade development, favorable policies for foreign investment, and key fields encouraging foreign investment to help foreign investors capture opportunities in the province.
For example, he said, the report clearly shows Hainan's ten main industries invested by foreign investment in 2020 and the actual use of foreign capital in each industry in the form of a table, and finds through comparison that leasing and business services is the most popular sector for foreign investment in 2020, with foreign capital in actual use exceeding 1.6 billion U.S. dollars and followed by wholesale and retail, real estate, and information transmission, software and information technology services.
CEIS is one of the largest economic information service organizations in China with the widest range of services and the most comprehensive product categories. It is committed to developing economic information and serving national strategies, and adheres to the direction of internationalization, marketization and specialization. By relying on Xinhua Silk Road Information Service, CEIS has extensively disseminated China's proposals, wisdom and solutions to the world to help improve China's international communication capacity in the field of economic information.
(Contributed by Gu Shanshan with Xinhua Silk Road, gushanshan.1987@163.com)