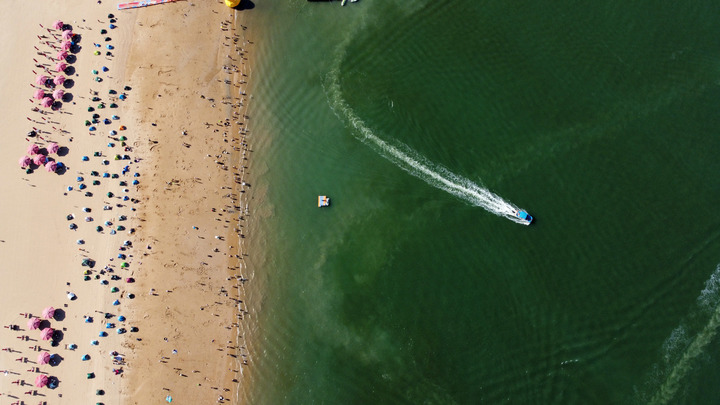 Aerial photo taken on June 5, 2021 shows an artificial beach resort at Dongjiang Port in the BinhaiNew Area of north China's Tianjin. (Xinhua/Zhao Zishuo)
BEIJING, June 22 (Xinhua) – North China's coastal municipality of Tianjin released its 14th five-year plan for marine economy development, aiming to further strengthen the marine economy as a new driving force for regional economic development, reported Tianjin Daily on Monday.
In response to the central government's call on accelerating the development of marine economy, Tianjin's marine economy development plan focuses on the construction of 61 major projects, involving a total investment of 236.08 billion yuan.
Specifically, under China's general framework of developing toward a maritime power, Tianjin will focus on the construction of four national core zones in the fields of international shipping, marine high-tech industry, marine culture exchange and green marine development.
Tianjin will promote the joint development of the five major marine industry clusters, including the China-Singapore Tianjin Eco-City, and the Tianjin Binhai Hi-Tech Industrial Development Area, to build a new pattern of regional marine economy.
Priorities will also be given to the development of four major sectors including seawater desalination, marine engineering equipment manufacturing, marine petrochemicals and coastal tourism.
According to the plan, while strengthening the capability of scientific and technological innovation, Tianjin will pay attention to marine environmental management and ecological protection and restoration, to promote the sustainable development of marine economy.
The city also vows to deepen international exchanges and cooperation in marine economy, enhance the global influence of marine affairs and build a maritime community with a shared future.
Started compiling in April of 2020, Tianjin's marine economy development plan has been reviewed and is about to come to the stage of issuance and implementation, according to local authorities.
(Edited by Jiang Feifan with Xinhua Silk Road, 346129473@qq.com)