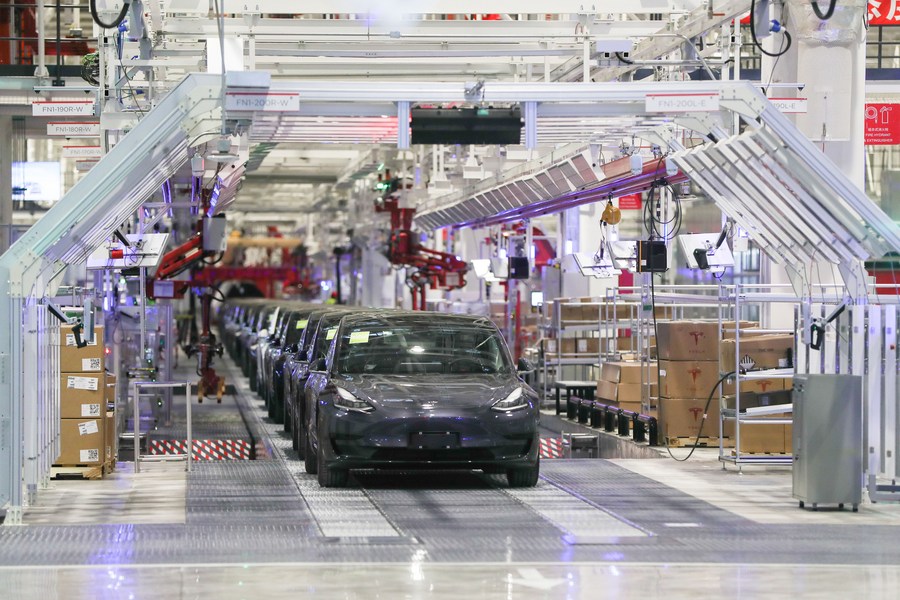 Photo taken on Jan. 7, 2020 shows China-produced sedans at Tesla's gigafactory in Shanghai, east China. (Xinhua/Ding Ting)
BEJING, June 21 (Xinhua) -- China's foreign direct investment (FDI) inflows were on steady growth in 2020, rising by 6 percent to 149 billion U.S. dollars, according to a report released on Monday by the United Nations Conference on Trade and Development (UNCTAD).
China secured steady growth and ranked the second place in terms of FDI inflows, mainly because of resilient economic growth, investment facilitation efforts and continuing investment liberalization, said the World Investment Report 2021.
In addition, outbound investment from China remained high at 133 billion U.S. dollars, making China the largest investor in the world, thanks to the continued expansion and merger and acquisition (M&A) of China's multinational enterprises (MNEs).
China represents the highlight of global investment as investors boost confidence in the country's investment environment, said Zhan Xiaoning, an official in charge of investment and enterprises at UNCTAD, adding that China will further attract foreign investments if the country could open up more investment fields for foreign investors, especially the tertiary industry with high added value.
Zhan also projected that China's FDI will remain high and keep growing steadily.
(Edited by Li Shimeng with Xinhua Silk Road, lishimeng@xinhua.org)