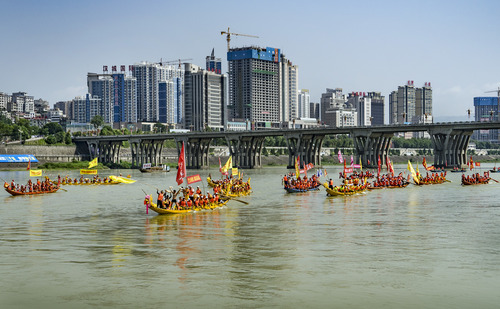 The 20th Ankang dragon boat racing is held on the Hanjiang River to celebrate the traditional Dragon Boat Festival in Ankang City, northwest China's Shaanxi Province, June 25, 2020. (Photo by Zhao Huabin/Xinhua)
BEIJING, June 16 (Xinhua) -- Northwest China's Shaanxi Province witnessed booming consumption market during the three-day Dragon Boat Festival holiday, according to the Shaanxi Provincial Department of Commerce.
Statistics conducted by Shaanxi authorities of 518 local retail and catering business entities showed that their sales during the holiday reached 900 million yuan, up 16.5 percent year on year.
Of the total, Shaanxi's catering revenue surged 43 percent year on year to 34.32 million yuan during the three-day holiday, while the sales of commodities totaled 866 million yuan, up 15.7 percent from the same period of last year.
In addition, the monitoring of seven major agricultural wholesalers in Shaanxi showed that the average wholesale price of products such as grain, edible oil, meat and vegetables remained stable with fluctuating rate within four percent during the holiday.

(Edited by Jiang Feifan with Xinhua Silk Road, 346129473@qq.com)