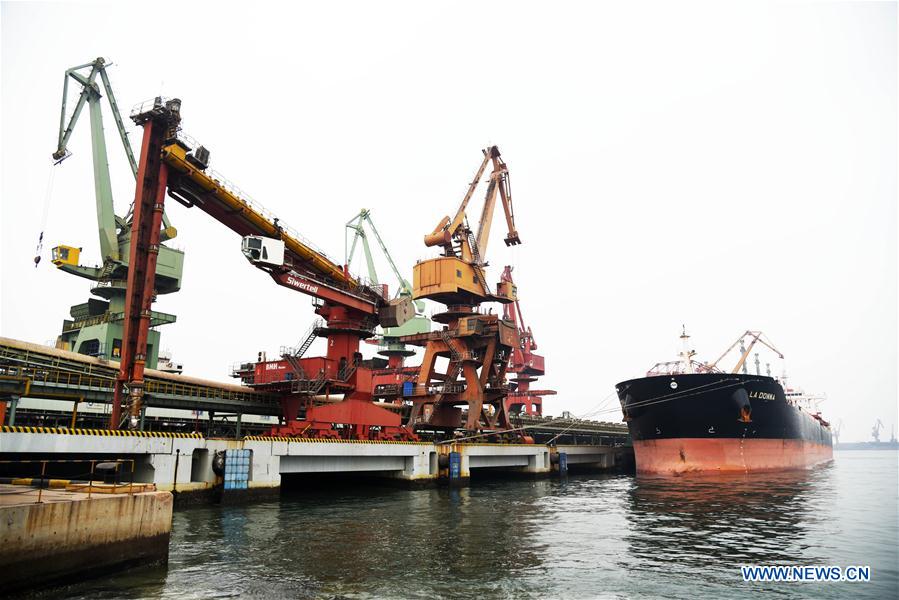 Photo taken on April 16, 2020 shows Rizhao Port in operation amid COVID-19 outbreak with prevention measures in Rizhao, east China's Shandong Province. (Xinhua/Wang Kai)
BEIJING, June 9 (Xinhua) -- A port collection and distribution system based on electronic toll collection (ETC) technology, the first of its kind in China, has recently been put into operation in Rizhao Port of east China's Shandong Province, greatly improving the efficiency of cargo transport, reported Shanghai Securities News Tuesday quoting Dazhong Daily.
The system was jointly developed by a port technology company and a communication technology company based in Shandong, and with it vehicles at a speed of 20 kilometers per hour can complete data exchange with the port management platform in only 0.27 seconds within a distance of 10-12 meters.
Within the service area of the system, truck drivers can get information about the cargo such as the pickup and delivery time and finish related verification on arrival and departure through the port management APP.
Currently, the system has covered the collection and distribution of bulk groceries and liquid chemicals in Rizhao Port, shortening the transit time of vehicles entering and leaving the port by 50 percent, and the weighing time of vehicles by 30 percent.
The system is of great significance to promote the building of a smart and green port, develop modern port logistics, build a port cloud ecological platform and an automated terminal system integrating the supervision and service of port waybill, further integrate logistics information resources, reduce logistics costs, and improve logistics efficiency.
(Edited by Gu Shanshan with Xinhua Silk Road, gushanshan.1987@163.com)