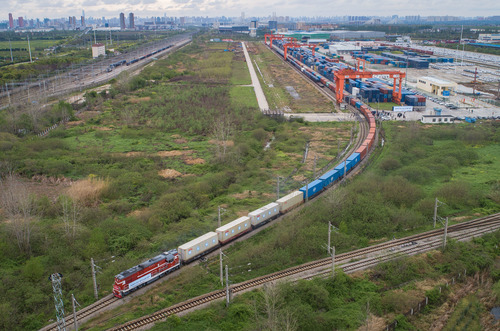 Aerial photo taken on March 28, 2020 shows a China-Europe freight train pulling out of the Wuhan terminal of China Railway Intermodal in Wuhan, central China's Hubei Province. (Xinhua/Xiao Yijiu)
BEIJING, May 28 (Xinhua) -- A new freight train service between China and central Asia was launched on May 20, connecting Wuhan city, the capital of central China's Hubei Province with Almaty, the largest city of Kazakhstan.
The freight train, fully loaded with 50 standard containers of goods, is expected to arrive in Almaty in 12 days after passing through China's Horgos Port in Xinjiang Uygur Autonomous Region, the border between China and Kazakhstan.
The launch of the new freight service between China and Kazakhstan promotes the export of products from central Chinese regions, also provides an efficient and reliable logistic channel for Chinese regions to import agricultural and minerals from Central Asian countries and regions.
The opening of the freight train route between Wuhan and Kazakhstan marks a key project of China railways as an independent operation platform for international cargo trains, which optimizes the freight train operation and goods trade between China and Asian countries and regions.
(Edited by Jiang Feifan with Xinhua Silk Road, 346129473@qq.com)