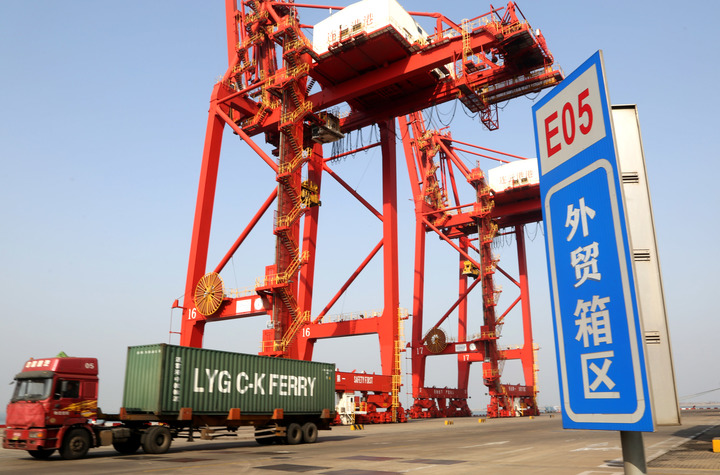 A container is transported on a truck at the container terminal of the Lianyungang Port in Lianyungang City, east China's Jiangsu Province, Jan. 14, 2021. (Photo by Wang Chun/Xinhua)
BEIJING, May 13 (Xinhua) -- East China's Jiangsu Province saw its foreign trade expand 22.5 percent year on year to 1,548.56 billion yuan in the first four months this year, marking a rise of 16.9 percent over the level in 2019, according to local authorities recently.
During the period, Jiangsu's exports jumped 27.5 percent year on year to 957.75 billion yuan in the period, while its imports picked up 15.1 percent from a year earlier to 590.81 billion yuan.
During the first four months, the province's general foreign trade stood at 862.67 billion yuan, up 28.4 percent year on year, and accounting for 55.7 percent of the total.
Meanwhile, Jiangsu's imports and exports of processing trade reached 500.42 billion yuan, up 5.9 percent year on year, while its foreign trade from bonded logistics surged 60.8 percent year on year to 168.24 billion yuan.
Jiangsu's foreign trade with its major trading partners such as the Europe Union (EU), ASEAN respectively increased 26 percent and 25.2 percent year on year, amounting to 235.31 billion yuan and 223.12 billion yuan.
In addition, the province's foreign trade with the Belt and Road countries registered 24.3 percent of year-on-year increase to 393.38 billion yuan.
(Edited by Jiang Feifan with Xinhua Silk Road, 346129473@qq.com)