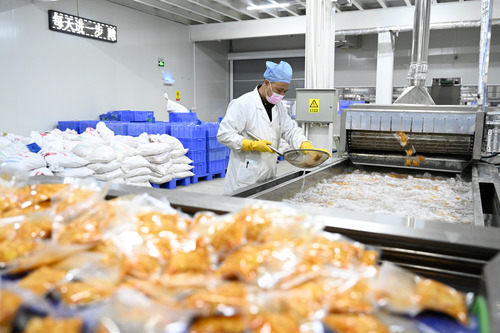 Li Yongguo checks the packed pickled bamboo shoots at a workshop of a "Luosifen" company in Liuzhou, south China's Guangxi Zhuang Autonomous Region, Nov. 18, 2020. (Photo by Li Hanchi/Xinhua)
BEIJING, May 11 (Xinhua) -- Luosifen rice noodles, a specialty instant food known for its pungent smell originated from south China's Liuzhou City registered rising exports in the first four months of the year, according to the local customs.
The export value of Luosifen from Liuzhou stood at 7 million yuan in the period, 4.1 times over the same period of last year, with the main export destinations including Singapore, Brunei, Malaysia and Germany.
As a signature dish of Guangxi, Luosifen is made from pickled bamboo, dried turnip, fresh vegetables and peanuts, and served in a spicy noodle broth flavoured with river snails.
In recent years, the Luosifen processing has risen to the local specialty industry in Guangxi, with consumers popularizing it across China and even overseas countries.
The booming stay-at-home economy during the COVID-19 epidemic last year led to a surging demand for Luosifen in foreign markets.

Liuzhou customs has taken efforts in mentoring relevant procedures and policies of exports business for local Luosifen manufacturers, providing reliable guarantee for the export of Luosifen.
Meanwhile, the customs also simplified customs clearance procedures for the export of Luosifen, and successfully applied for customs protection of intellectual property rights (IPR) for three local enterprises in Liuzhou.

In 2020, the export of Luosifen supervised by Liuzhou customs exceed 30 million yuan, 35 times of the total in 2019.
At present, the ready-to-serve Luosifen has been shipped to foreign markets across 20 countries and regions.
(Edited by Jiang Feifan with Xinhua Silk Road, 346129473@qq.com)