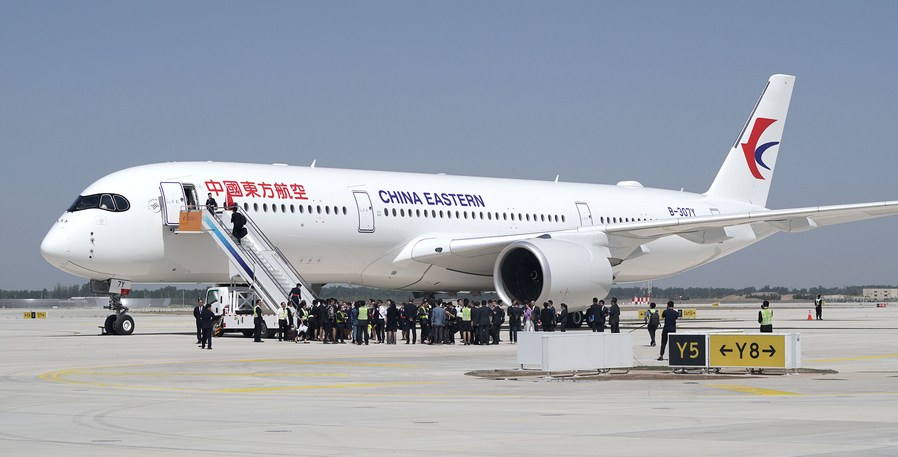 BEIJING, April 27 (Xinhua) -- China Eastern Airlines Group recently announced that it will deepen cooperation with China's Liaoning province to promote the high-quality development of the civil aviation industry, Liaoning Daily reported on Monday.
China Eastern Airlines occupies an important position in the Liaoning civil aviation market. At present, China Eastern Airlines operates in Shenyang, Dalian and many other cities in Liaoning, with a total of 1,026 flights per week, ranking third in the province's share.
In recent years, Liaoning is committed to building an international aviation hub in Shenyang and continuously improving domestic and international air transportation networks, consolidating international short- and medium-distance routes in Northeast Asia, especially those with obvious advantages in Japan and South Korea, and vigorously expanding long-distance intercontinental routes.
The development plan of Liaoning is quite compatible with the development path of China Eastern Airlines in Liaoning. In the next step, China Eastern Airlines will vigorously promote its capacity in Liaoning, increase flight execution rates and the proportion of direct flights, continue to increase market share in Liaoning, and speed up aviationbase construction, according to the relevant person in charge of China Eastern Airlines Group.
The Department of Transportation of Liaoning Province stated that Liaoning will also build a platform for civil aviation development cooperation, expand the civil aviation transportation market, build an aviation hub to Japan, and promote the implementation of civil aviation development support policies and other measures to fully deepen the bilateral cooperation with China Eastern Airlines.
In addition, after several years of adjustments and resource integration, China Eastern Airlines has basically formed a complete industrial system centered on the air transportation industry, including aviation passenger transportation, aviation logistics, aviation finance, aviation food and other related industries. Apart from increasing cooperation in the transportation industry, China Eastern Airlines can also expand cooperation in other industrial sectors in Liaoning.
(Edited by Gao Jingyan with Xinhua Silk Road, gaojingyan@xinhua.org)