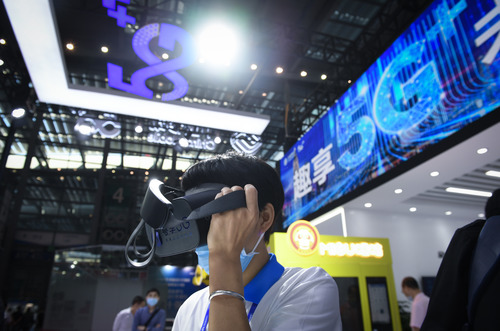 A staff member demonstrates a VR device supported by 5G network at the booth of telecom giant China Mobile during the 22nd China Hi-Tech Fair (CHTF) in Shenzhen, south China's Guangdong Province, Nov. 12, 2020.(Xinhua/Mao Siqian)
BEIJING, April 27 (Xinhua) -- Shenzhen, the technology hub in south China's Guangdong Province recently introduced 24 detailed measures aimed at accelerating the high-quality development of 5G industry, according to the local authorities.
According to the measures, Shenzhen calls for technological breakthroughs and innovation in 5G network equipment chip manufacturing, and will offer financial support ranging from 5 million to 30 million yuan to relevant enterprises in terms of technological achievements.
While expanding the scale of the 5G industry development, Shenzhen would also made efforts to attract investment in the 5G industry chain, promote the application of 5G industry, and innovate 5G network terminals.

In promoting the industrial integration of 5G technology, Shenzhen vows to support the application of 5G technology in the manufacturing sector and encourage the region to roll out more innovate application scenarios of 5G, such as the integration of 5G with the industrial Internet.
A series of institutional guarantees for promoting the 5G development, including institutional innovation and fund guarantee system will also be strengthened accordingly.
(Edited by Jiang Feifan with Xinhua Silk Road, 346129473@qq.com)