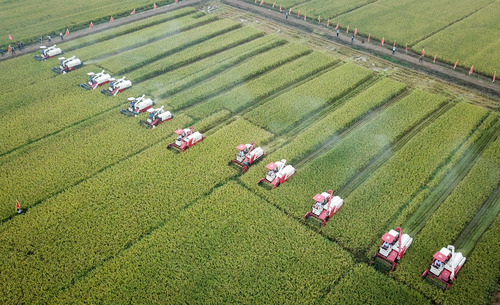 BEIJING, April 22 (Xinhua) -- China formulated the 2021 version of catalogue of projects that can be financed by green bonds, effective as from July 1, to help realiza peaking of carbon emission and carbon neutrality, reported Xinhua-run Xinhua Finance citing an announcement posted on the website of Chinese central bank Wednesday.
As early as in December 2015, China released the 2015 catalogue of green bond-supported projects and green bond issuance directive to define the scope of green bond-supported projects and regulate green bond market development.
Alongside the continuous development of China's green industries and upgrading of related industry policies and technical standards, it is necessary to unify the scope of supported projects under the two documents and match gradually these standards and regulations with their international counterparts.
Green bonds are securities whose proceeds are used to finance qualified green industries, green projects or green economic activities, including green financial bonds, green enterprise bonds, green corporate bonds, green debt financing vehicles and green asset backed securities. Enterprise bond differs from corporate bond in China and refers mainly to bonds issued by state-owned or controlled enterprises. Corporate bond refers to bonds sold by companies other than the state-owned or controlled firms.
Compared with the 2015 version, the new version adds green agriculture, green architecture, sustainable architecture, water resources saving, and non-regular water resources utilization into the supported areas.
Fossil energy clean utilization projects including coal-related projects are excluded from the 2021 version of catalogue as international mainstream green bond standards generally do not include the type of projects. (Edited by Duan Jing with Xinhua Silk Road, duanjing@xinhua.org)