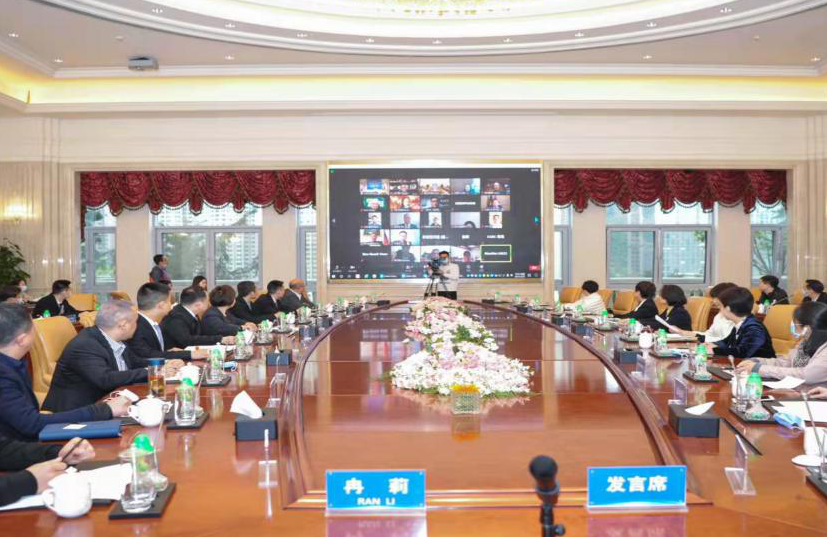 Photo: A conference on China (Guiyang)-ASEAN Medicine Industry Cooperation has been recently held via video link in Guiyang, capital city of southwest China's Guizhou Province.
BEIJING, April 7 (Xinhua) -- Southwest China's Guizhou Province and the Association of Southeast Asian Nations (ASEAN) should take the prevention and control of the COVID-19 epidemic as an opportunity to jointly promote the cooperation and development of the traditional Chinese medicine (TCM) industry, according to the attendees at a recent conference, quoted by Economic Information Daily on Wednesday.
Guizhou Province and the ASEAN are highly complementary in the development of the TCM and related industries which in recent years have become a key area of health cooperation between the two sides.
Recently, the Guizhou Provincial Department of Commerce and the China-ASEAN Business Council have jointly held a conference on China (Guiyang)-ASEAN Medicine Industry Cooperation via video link.
In the course of fighting the epidemic in the past year, China has actively leveraged the unique advantages on the TCM and the medicines produced by the country have been donated or sold to some ASEAN countries, according to Xu Ningning, executive president of the China-ASEAN Business Council.
As one of China's four major medicinal materials production areas, Guizhou has more than 4,800 varieties of TCM resources, 47 of which have been protected as national geographical indication products. Guizhou hopes to promote the TCM exchanges and cooperation between Guizhou and ASEAN countries, said Ran Li, deputy director of the Department of Commerce.
China has been Thailand's largest trading partner for eight consecutive years. In 2020, the bilateral trade volume between the two countries reached 98.78 billion U.S. dollars, an increase of 7.67 percent year on year.
Chiyawan Chongvatana, commercial minister of the Thai Embassy in China, said that China is one of the leading countries in traditional medicine, and Thailand's traditional medicine and medical treatment have also been widely recognized. The two countries have continued to increase cooperation in the TCM field, and the prospects are promising. (Edited by Hu Pingchao with Xinhua Silk Road, hupingchao@xinhua.org)