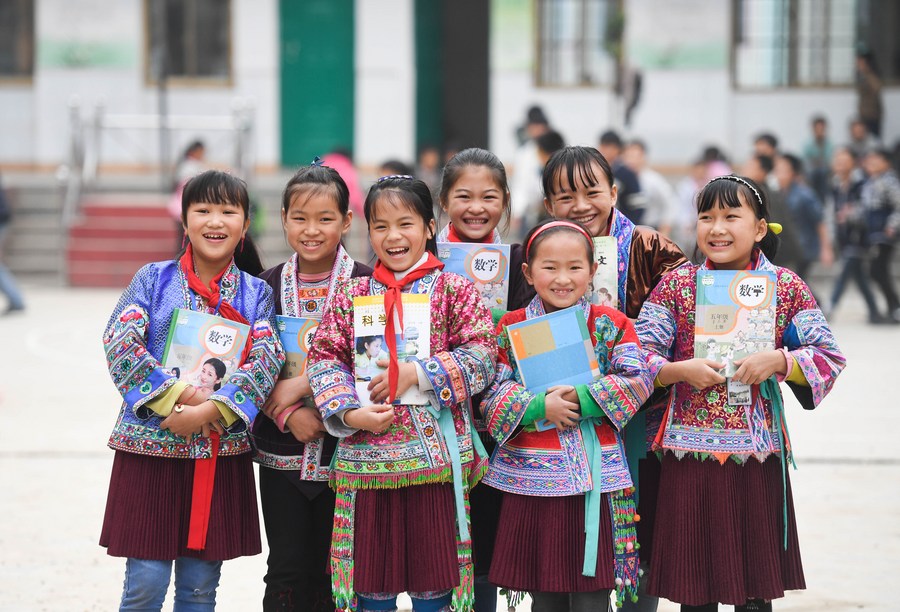 Girls posing for photo at a school in Baiyun Township in Rongshui Miao Autonomous County, south China's Guangxi Zhuang Autonomous Region. (Xinhua file photo/Huang Xiaobang)
BEIJING, April 6 (Xinhua) -- China's ethnic minority areas have made notable progress in fighting poverty, said a white paper issued on Tuesday.
From 2016 to 2020, the number of the poor dropped by 15.6 million in the country's five autonomous regions -- Inner Mongolia, Guangxi, Tibet, Ningxia and Xinjiang -- and three provinces with a large multi-ethnic population -- Guizhou, Yunnan and Qinghai, said the white paper issued by the State Council Information Office, titled "Poverty Alleviation: China's Experience and Contribution."
The paper stated that extreme poverty was eliminated in all 28 of the minority ethnic groups with a small population.
Some ethnic groups, still at the later stage of primitive society when the People's Republic of China was founded in 1949, leapfrogged to socialism and then again made great strides towards moderate prosperity in all respects, said the paper.