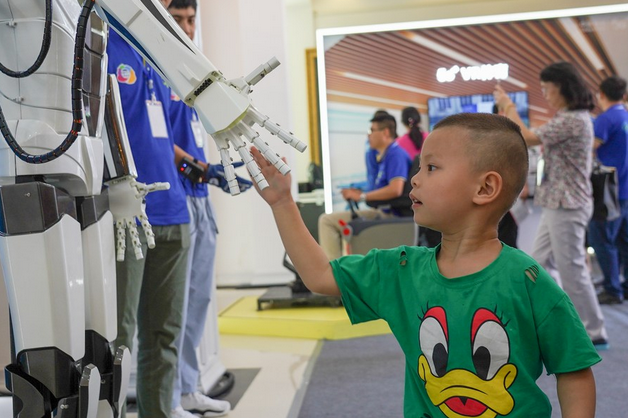 A child shakes hands with a robot during Jiangxi International Mobile Internet of Things Expo 2019 in Yingtan, east China's Jiangxi Province, July 18, 2019. (Xinhua/Zhou Mi)
BEIJING, April 1 (Xinhua) -- As China vows to promote digital economy during the 14th Five-Year Plan period (2021 to 2025), Chinese central and local governments are mulling a series of policies such as special plans for digital economy, policies on promoting "Internet plus" businesses and plans for new infrastructure construction, reported the Xinhua-run Economic Information Daily on Tuesday.
Meanwhile, local governments are stepping up planning for major digital economy projects in the next five years, focusing on big data, artificial intelligence (AI) and other key areas in order to create digital industry clusters with international competitiveness.
With policy incentives, China is likely to see a new round of upsurge in digital economy. During the 14th Five-Year Plan Period, digital economy is expected to create an industrial output of more than 60 trillion yuan, according to industry insiders.
-- Supportive policies in the pipeline
Chinese authorities have recently intensified their efforts to formulate major policies supporting the development of digital economy from 2021 to 2025.
The National Development and Reform Commission (NDRC) said it would compile a special plan for digital economy during the 14th Five-Year Plan period, strengthen the innovative application of key digital technologies, advance digital industrialization and industrial digitization, and improve digital governance system and digital services.
Regarding new infrastructure, which is the foundation for consolidating the development of digital economy, Yang Xiaowei, deputy director of Cyberspace Administration of China, recently told a press conference that efforts are being made to work out a plan for information technology development from 2021 to 2025, including accelerating the upgrading of information infrastructure and the large-scale deployment of 5G network, making forward-looking investment in 6G technology, and promoting the adoption of IPv6 applications.
In terms of industrial development, the Ministry of Industry and Information Technology said it would prioritize the development of seven key industries of digital economy and the top ten digital application scenarios set forth in the Outline of the 14th Five-Year Plan for National Economic and Social Development and the Long-Range Objectives through the Year 2035. It will also drive the industrial development of big data, AI and block chain.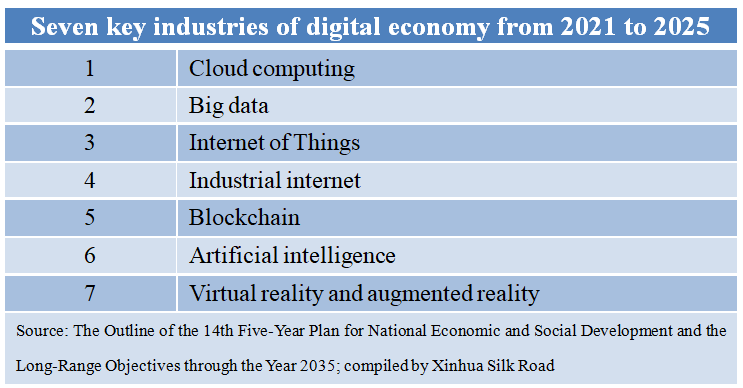 Besides, local governments have also been active in advancing faster growth of digital economy from 2021 to 2025. For example, central China's Hunan province proposed to make the proportion of the added value of core industries of digital economy in local GDP to 11 percent by 2025, while east China's Zhejiang province pledged to raise the figure to 15 percent by 2025.
--Major Projects under construction
Many Chinese provinces and cities witnessed major digital economy-related projects begin construction since the start of this year.
On March 29, southwest China's Sichuan province kicked off a batch of major projects. Among those projects with a total investment of 799.4 billion yuan, 34 were related to new infrastructure such as 5G base stations and big data centers.
Likewise, Wenzhou city in Zhejiang on March 17 started construction of 48 major projects, including 24 ones related to digital economy and intelligent manufacturing that take up 62 percent of the total investment of 74.6 billion yuan.
In the meantime, many local governments have mapped out plans for digital industry projects for the next five years, with centers on such areas as big data and AI.
For instance, Zhejiang vowed to boost cloud computing and big data, and plans to construct 11 major projects with a total investment of 185.1 billion yuan during the 14th Five-Year Plan period.
East China's Fujian province set a target of building more than 100 high-level digital innovation platforms and cultivating a number of characteristic digital industries by the end of 2025.
Cloud computing, big data, AI and other emerging digital industries are growing at a faster pace than traditional manufacturing sector and playing an increasingly prominent a role in driving economic growth. Developing emerging digital industries during the 14th Five-Year Plan period will provide sustained impetus for the innovative development of digital economy, said Gao Yingmai, director of digital transformation research department of the information technology and software industry research institute under China Center for Information Industry Development (CCID).
During the 14th Five-Year Plan period, digital industries are expected to creaste more than 60 trillion yuan of economic output, according to Yu Xiaohui, head of China Academy of Information and Communications Technology (CAICT).
--Integration with real economy
Spurring by favorable policies, digital economy is expected to usher in a new round of development. However, efforts need to be made to boost the integrated development of digital economy and real economy, said experts.
The key to pushing the integration of digital economy and real economy lie in the manufacturing industry. Therefore, it is essential to consolidate the digital foundation of the manufacturing industry, promote the digital transformation of enterprises, and intensify digital application in all links, said Sun Ke, deputy director of policy and economic research institute of CAICT, adding that efforts would also be made to accelerate the innovative development of industrial Internet and develop intelligent manufacturing, service-oriented manufacturing, large-scale customization and other new digital models and business forms.
In promoting digital industrialization, emphasis would be put on cultivating leading enterprises and creating new competitive advantages in digital industries, such as 5G, cloud computing and big data. In accelerating industrial digitalization, priorities should be given to dig deep into various entities' consumption demands for information technology and speed up innovating applications and models of traditional industries, according to Gao Yingmai. (Edited by Su Dan with Xinhua Silk Road, sudan@xinhua.org)