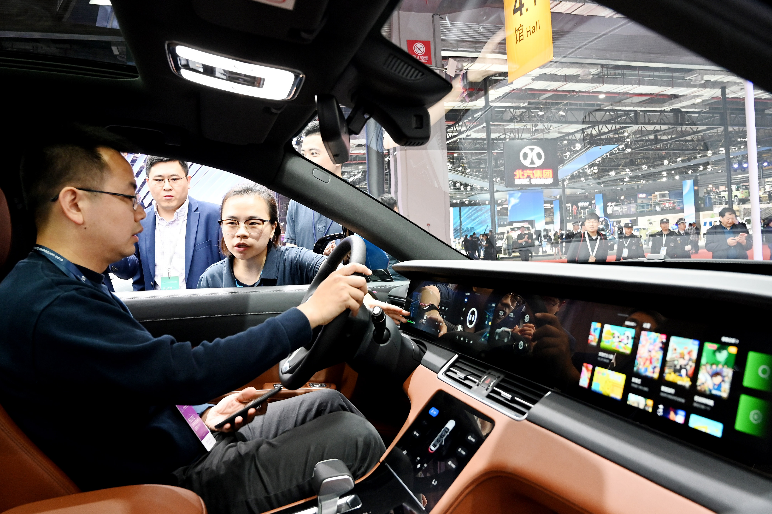 A visitor tries a Lixiang One electric vehicle during the 18th Shanghai International Automobile Industry Exhibition in Shanghai, east China, April 17, 2019. (Xinhua/Fang Zhe)
BEIJING, Feb. 26 (Xinhua) -- East China's Shanghai Municipality on Thursday unveiled a plan for development of the new energy vehicle (NEV) industry in the period from 2021 to 2025, the Shanghai Securities News reported on Thursday.
According to the plan, by 2025, Shanghai's annual NEV output will exceed 1.2 million units, and the output value of the NEVs will exceed 350 billion yuan (about 54.22 billion U.S. dollars), accounting for more than 35 percent of the city's automobile manufacturing output value.
Shanghai will support development of NEVs by SAIC Motor. By 2025, sales of the company's self-owned brand passenger vehicles in the NEV models will account for more than 30 percent and its NEV sales will account for more than 20 percent of the total vehicle sales.
Meanwhile, the municipality will support the local NEV enterprises to carry out mergers and acquisitions (M&As) at home and abroad to strengthen the industrial chain.
Qiu Wenjin, deputy director of the Shanghai Municipal Development and Reform Commission, said that the city will focus on the support for pure electric vehicles through differentiated arrangements.
Data shows that in 2020, Shanghai promoted the use of additional 121,000 NEVs, up 92 percent year on year, and a total of 424,000 NEVs (including 1,483 fuel cell vehicles) have been promoted accumulatively.
"With the launch of a batch of pure electric vehicles with long driving range and high level of intelligence, it has effectively aroused citizens' enthusiasm for buying pure electric vehicles. The proportion of pure electric vehicles in the total NEV sales has increased significantly from 29 percent in 2018 to 63 percent last year," said Qiu.
In order to better support the NEV industry development, the city will strive for the infrastructure construction.
According to the plan, Shanghai will encourage the conversion of existing public charging piles into direct current (DC) fast charging piles, and strive to build or rebuild 10,000 fast charging piles. (Edited by Hu Pingchao with Xinhua Silk Road, hupingchao@xinhua.org)