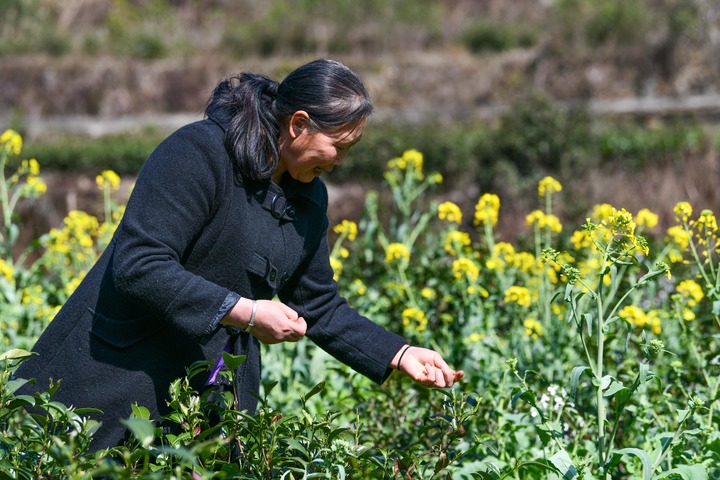 A farmer picks tea leaves in the field in Wengqi Village of Dushan County, southwest China's Guizhou Province, Feb. 17, 2021. Villagers are busy with farm work in the early spring. (Xinhua/Yang Wenbin)
BEIJING, Feb. 22 (Xinhua) -- The Agricultural Bank of China (ABC), one of the country's largest commercial lenders, is to provide over 270 billion yuan in loans to aid spring farming and preparation in 2021, with the newly-added loans issued to farming households over 110 billion yuan, reported the Xinhua-run cnstock.com last Saturday.
The ABC has always placed supporting spring farming as one of the top priorities in its work concerning agriculture, rural areas and farmers, and made attempts to fulfill financial demands from various parties. By the end of 2020, outstanding agriculture-related loans stood at 4.29 trillion yuan.
The ABC has focused on major agricultural provinces as well as big counties in agriculture, animal husbandry and fishery, and provided convenient online and offline services including payment, remittance and settlement for its customers.
Meanwhile, the ABC has made all-out efforts to improve efficiency in serving spring farming. Branches are encouraged to set up special windows to accept related businesses. Green channels for credits will be established. Some qualified regions are encouraged to provide door-to-door services to accelerate business processing speed.
The bank has further improved its online services. It has offered guidance to 160 million registered customers in counties and carried out various services including credit financing, commodity purchase and payment of life.
In addition, the ABC has tried to enhance financial services and improve service accuracy for key industrial parks, major enterprises and main agricultural business entities that are busy with spring farming. (Edited by Zhang Yuan with Xinhua Silk Road, zhangyuan11@xinhua.org)