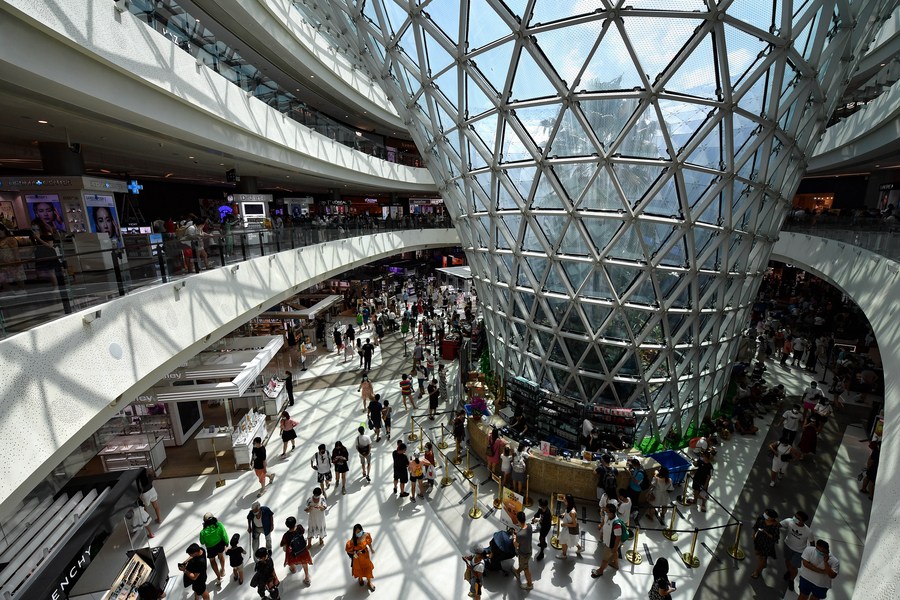 Tourists shop at a duty-free shopping mall in Sanya City, south China's Hainan Province, Oct. 5, 2020. (Xinhua/Guo Cheng)
BEIJING, Feb. 19 (Xinhua) -- The consumer market in China's resort island Hainan province remained buoyant during the seven-day Spring Festival holiday, reported local newspaper on Thursday.
According to the report, offshore duty-free shops in the province launched a series of promotional activities one after another during the period to attract tourists and spur their consumption enthusiasm.
Data from the provincial department of commerce showed that nine duty-free stores in Hainan saw their total sales volume reach 1.5 billion yuan during the holiday, twice the figure registered during the Spring Festival holiday in 2019. And more than 200,000 tourists visited these duty-free shops during the period.
At the same time, consumption in traditional supermarkets also picked up steam during the period, as sales of nine large supermarkets in the province, including Carrefour, RT-Mart and China Resources Vanguard, surged 86.23 percent year on year to 110 million yuan during the holiday.(Edited by Yang Yifan with Xinhua Silk Road, yangyifan@xinhua.org)