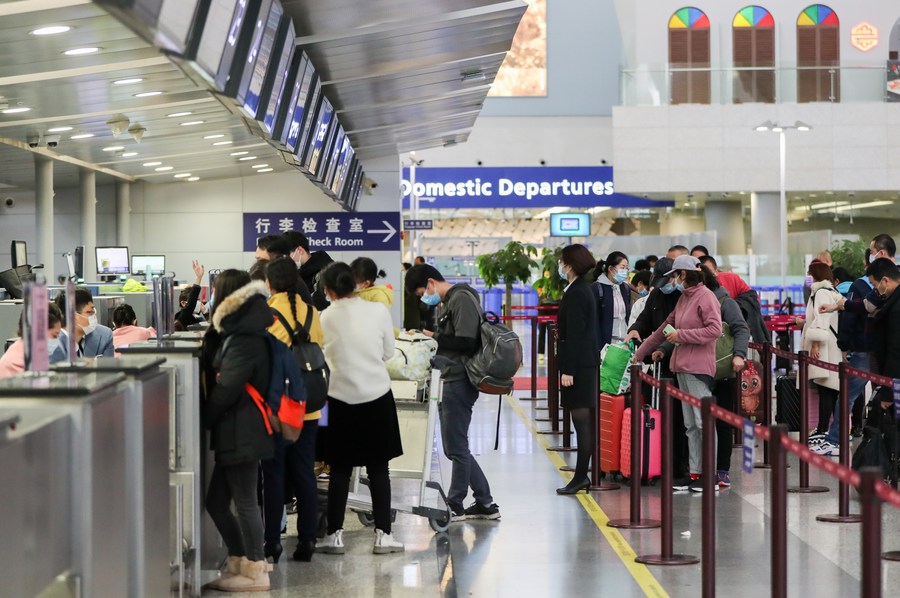 Passengers check in at the domestic departure section of Terminal 2 building of the Shanghai Pudong International Airport in east China's Shanghai, Nov. 24, 2020. (Xinhua/Ding Ting)
BEIJING, Feb. 10 (Xinhua) -- China's civil aviation sector has recently abolished the provisions on foreign investment in civil aviation and adopted a negative list for foreign investment to further expand opening-up, reported Economic Information Daily Wednesday quoting the Civil Aviation Administration of China (CAAC).
According to CAAC, the policy for foreign investment in civil aviation industry will be implemented in accordance with the foreign investment law and the negative list for foreign investment, which means foreign investment can be received by any field of the sector where it is not forbidden by law.
The sector retains foreign investment access restrictions in public air transport, general aviation and civil airports, said Yang Ying, deputy director of the Department of Policy, Law and Regulation with CAAC, at a press conference held Tuesday.
Fields excluded in the list will be managed in a non-discriminatory manner that is consistent with domestic investment, such as industry licensing and supervision during and after event, added Yang.
China has also increased policy support for the civil aviation sector to expedite the supply-side structural reform in foreign capital utilization, and encourage and guide the input of foreign capital, technologies and management in key business areas pf the sector.
It's learned that in the 2020-version catalogue of industries that encourage foreign investment, the items for civil aviation rose from 14 to 16, covering civil airports, general aviation, equipment manufacturing, unmanned aerial vehicles among other fields.
(Edited by Gu Shanshan with Xinhua Silk Road, gushanshan.1987@163.com)