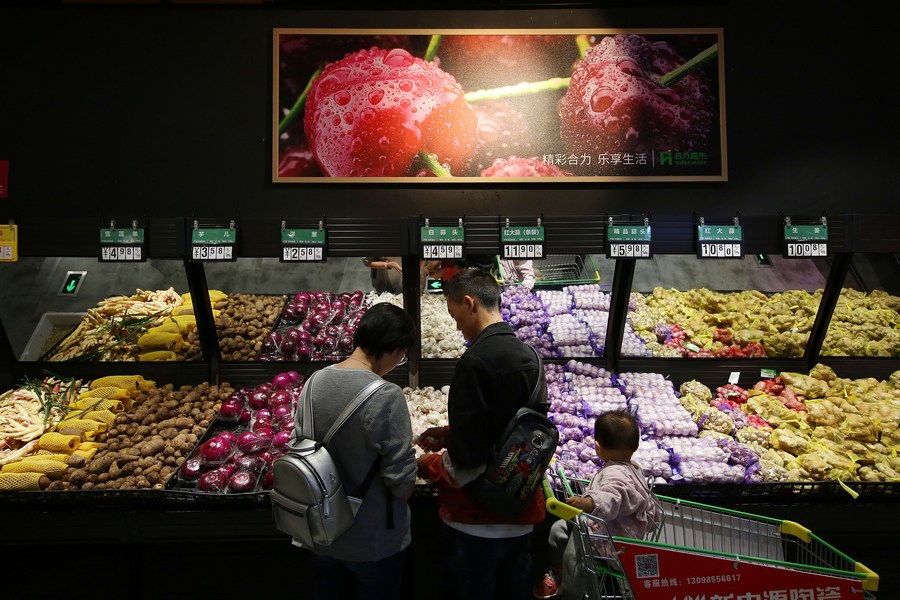 Photo shows customers select garlics at a supermarket in Danzhai County, southwest China's Guizhou Province, Sept. 16, 2020. (Xinhua/Huang Xiaohai)
BEIJING, Jan. 21 (Xinhua) -- China's retail sales, a proxy for consumption, amounted to 39.2 trillion, a year-on-year fall of 3.9 percent, according to the data released by the National Bureau of Statistics (NBS) on Monday.
Although the annual consumption growth is still in the negative territory, China's consumption has been growing positively for many consecutive months and is on a track of continuous recovery.
Experts predict that China's consumption will continue to recover in the coming months with better conditions.
-- Growth picking up
"China has seen growth in consumption market pick up in the past months, even though the figure for the whole year was still in negative territory," said Zhao Ping, vice president of the Academy of China Council for the Promotion of International Trade (ACCPIT).
In January and February 2020, when the COVID-19 ravaged in China, the country suffered from a 20.5-percent drop in consumption partly due to the lockdown measures.
With great efforts in epidemic control and production resumption, China has seen a recovery in consumption. The country has seen positive growth in consumption since August last year, securing an impressive V-shape recovery.
In the fourth quarter, the retail sales climbed 4.6 percent year on year, 3.7 percentage points higher than that in the third quarter.
In December alone, China saw a 4.6-percent increase year on year and a 1.24-percent rise month on month in retail sales.
-- Stable job market and sustainable income support consumption recovery
The continued recovery seen in China's consumption can be attributed to the added jobs and steady growth in people's income amid stable social and economic development.
China's job market remained stable in 2020. A total of 11.86 million new urban jobs were created during the whole year, achieving 131.8 percent of the target set for the entire year, the NBS data showed.
In December, the surveyed urban unemployment rate was 5.2 percent, down from its annual peak of 6.2 percent in February as COVID-19 brought many of the country's economic activities to a halt.
Thanks to the stepped-up efforts, the livelihoods of residents have been safeguarded despite the COVID-19 disruption.
In 2020, China's per capita disposable income rose 2.1 percent to 32,189 yuan, basically keeping pace with the GDP increase, according to the NBS data.
China's consumer price index (CPI) remained stable and rose 2.5 percent year on year in 2020, staying within the government's annual target of around 3.5 percent.
"The relatively high growth in the number of new jobs created amid the severe health crisis, even better than the figure in 2019, laid a solid foundation for sustainable residents' income and steady recovery of China's consumption," said Bai Jingming, a researcher with China's Academy of Fiscal Sciences, a Beijing-based think-tank.
Bai added that the measures taken by the Chinese authorities to ensure basic livelihoods, salary and operation, have played a crucial role in stabilizing the job market and bolstering consumption in the country.
-- Booming online consumption
In 2020, when people were grounded due to the COVID-19 epidemic, online consumption became a major driving force for the rebound in the consumption.
Official data showed that the online sales across the country in 2020 reached 11.76 trillion yuan, an increase of 10.9 percent year on year.
Accounting for 24.9 percent of the total retail sales of consumer goods, the online retail sales of physical goods in 2020 stood at 9,759 billion yuan, up 14.8 percent year on year.
Noting that China has seen a trend of industrial digitization and digital industrialization, Ning Jizhe, the head of the NBS, said that more online consumption scenarios have emerged, contributing to the high-quality development in China.
Apart from online consumption, China has also witnessed some other new growth points.
For example, the people's demand in consumption upgrading expands. In the fourth quarter, the country has seen fast growth in the sales of communication equipment, cosmetics and jewelry.
China could also find opportunities in rural areas, a bright spot in the consumption in 2020. In December, the retail sales in rural areas registered an increase of 5.9 percent, outshining urban areas by 1.5 percentage points.
-- Bright future
Responding to the slight month-on-month decrease in consumption growth in December, Ning noted that although there were sporadic outbreaks in some regions in recent weeks, which has taken a toll on the retail sales figure in December, their impacts on the economy are "controllable".
With a middle-income population of 400 million, the country has one of the world's fastest-growing markets, and the enormous domestic demand will continue to fuel its economic growth. China will continue to be a key engine of global economic growth, said Zong Liang, chief analyst of the Bank of China (BOC).
Zong also predicted that China will see rather rapid growth of up to 10 percent in its consumption in 2021.
In the next stage, China will promote employment, optimize income distribution structure and expand the middle-income group as part of efforts to boost domestic consumption, according to a tone-setting economic conference held in December last year.
(Edited by Li Shimeng with Xinhua Silk Road, lishimeng@xinhua.org)