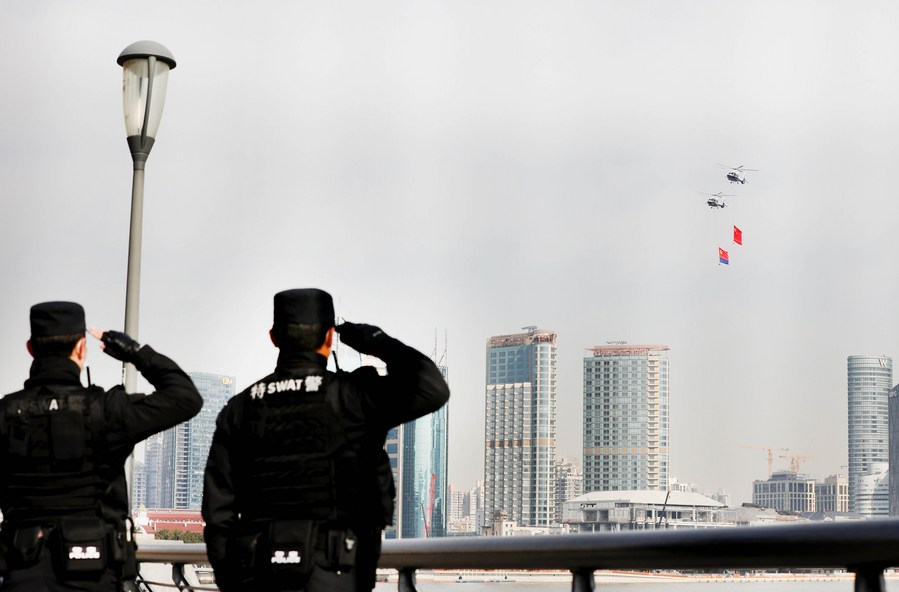 Two police officers salute to the Chinese national flag and the police flag hanging on helicopters in east China's Shanghai, Jan. 10, 2021. (Xinhua/Fang Zhe)
BEIJING, Jan. 11 (Xinhua) -- China will continue to foster a law-based business environment, reported stcn.com Monday quoting a plan to build the rule of law in China (2020-2025) issued recently by Chinese central government.
Specific measures will include implementing a unified negative list for market access and removing hidden barriers, abolishing all forms of unreasonable regulations on the non-public sector of the economy, and rectifying abuses of administrative power to exclude or restrict competition, according to the plan.
Efforts will also be made to clean up illegal charges, inspections and assessments related to enterprises, strengthen integrity construction in government affairs, implement a system of punitive compensation for intellectual property infringement, and inspire and protect scientific and technological innovation.
It proposes to further administration streamlining, promote "internet plus government services" model at faster speed, basically achieve "one-network, one-door and one-time" handling of key and high-frequency matters in government services, and establish a national integrated government service platform by the end of 2022 to make it possible for all government services to be handled through one network.
It also proposes to speed up legislation on social credit and improve the punishment mechanism for trust-breaking to secure the legitimate rights and interests of citizens and enterprises, strengthen legislation on foreign-related fields and information technology, and fully leverage big data, cloud computing, artificial intelligence and other modern technological means to build intelligent rule of law.
(Editedby Gu Shanshan with Xinhua Silk Road, gushanshan.1987@163.com)