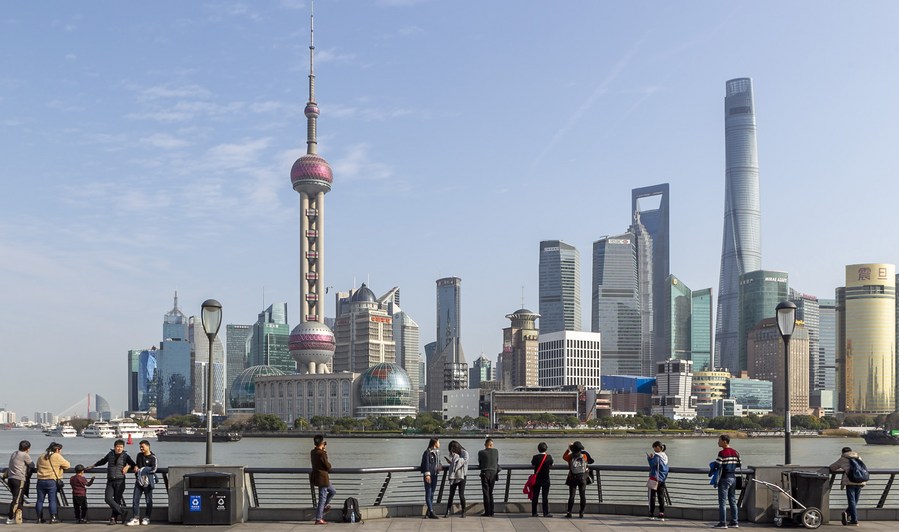 Tourists admire the skyline view of Lujiazui area at the Bund in Shanghai, east China, Jan. 6, 2020. (Xinhua/Wang Xiang)
BEIJING, Jan. 7 (Xinhua) -- China's economy is presenting a general trend of steady recovery, and many institutions predict that China's economic growth in 2020 might surpass 2 percent, with economic aggregate exceeding 100 trillion yuan.
According to data released on January 4, the Caixin China General Manufacturing Purchasing Managers' Index (PMI), a private gauge of Chinese manufacturing activity, registered 53 percent in December 2020, 1.9 percentage points lower than that in November but still significantly higher than the threshold.
This trend is consistent with the manufacturing PMI in December 2020 released by the National Bureau of Statistics (NBS) which stood at 51.9 percent, a drop of 0.2 percentage point month on month.
The decline of the manufacturing PMI in December 2020 is better than the month-on-month decline in the same period historically, indicating that the industrial production in China is still booming, said Zhu Jianfang, chief economist with CITIC Securities.
The three main drivers for China's economic growth, namely investment, consumption and exports, were also expected to continue to achieve speedy development in December 2020.
Since the third quarter of 2020, the year-on-year growth rates of consumption and investment have turned positive in succession, and there are various signs showing a more active overall investment in December 2020.
Data showed that the construction business activity index was 60.7 percent in December 2020, 0.2 percentage point higher than that in November 2020, indicating steady progress in investment-related activities.
Although sporadic COVID-19 cases might drag down the consumption recovery, the momentum of continuous improvement in consumption will not be hindered. Institutions commonly believe that the year-on-year consumption growth in December 2020 will continue to increase from the 5 percent in November 2020.
The stronger-than-expected export performance has added a bright spot to the Chinese economy in 2020.
In December 2020, the China Containerized Freight Index (CCFI) continued to surge, and the composite index of the Shanghai Containerized Freight Index rose by 30.8 percent from November 2020, both further verifying the high prosperity of China's exports.
Multiple institutions forecast that affected by the high base, China's export growth in December 2020 might fall back, but still maintain double digit.
With the continuous improvement of domestic and foreign demands, the Chinese economy might conclude steady in 2020.
China's investment, consumption and exports had all improved since the third quarter of 2020, and the economic growth momentum had recovered significantly, stressed Tang Jianwei, chief researcher with the Bank of Communications.
The economic recovery momentum of China became stronger in the fourth quarter of 2020, and China's economy might achieve a growth of 6.3 percent from October to December and 2.3 percent throughout the year, Tang added.
(Edited by Gu Shanshan with Xinhua Silk Road, gushanshan.1987@163.com)