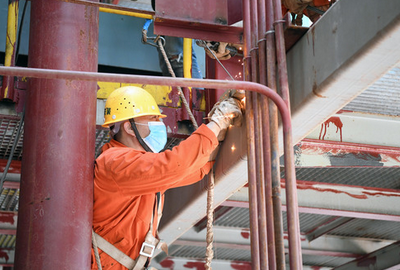 BEIJING, Dec. 18 (Xinhua) -- Northeast China's Liaoning Province and east China's Jiangsu Province signed a cooperation agreement on Wednesday to jointly promote high-quality development in the construction industry, reported by Liaoning Daily.
During the signing ceremony, 16 representative enterprises in fields including steel structure engineering and environmental protection engineering signed cooperation agreements.
Since the strategic cooperation agreement signed in 2018 between the two provinces, business cooperation has continued to accelerate, with increasing number of cooperative projects and talent exchanges, achieving remarkable results.
In the first three quarters of 2020, the growth rate of the total output value of the construction industry in Liaoning Province has changed from negative to positive, with a year-on-year increase of 3.8 percent.
The 16 enterprises in the two provinces that signed the cooperation agreements will carry out comprehensive and in-depth cooperation in engineering construction, equity investment, project financing, and project cooperation around the core business and product industrial chain of both sides.
At the same time, the housing and urban-rural developments of the two provinces will give full play to the comparative advantages of their enterprises, strengthen in-depth cooperation. For example, Jiangsu's construction enterprises will fully support the construction of urban renewal projects in Liaoning Province to realize the resources sharing, complementary advantages and coordinated development between north and south China.
(Edited by Gao Jingyan with Xinhua Silk Road, gaojingyan@xinhua.org)