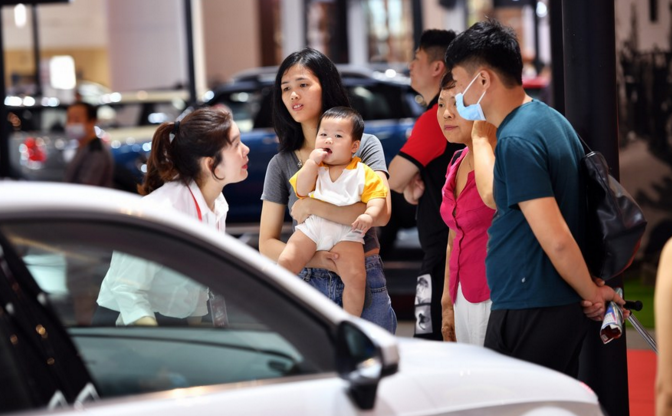 People visit the 14th Hainan Autumn Auto Show in Hainan International Conference and Exhibition Center in Haikou, capital of south China's Hainan Province, Sept. 17, 2020. (Xinhua/Guo Cheng)
BEIJING, Dec. 11 (Xinhua) -- China's Ministry of Commerce (MOC) considers rolling out new measures to promote consumption of key commodities such as the automobiles, home appliances and furniture, MOC spokesperson Gao Feng told a press briefing on Thursday.
At the turning of the year, the MOC will work with relevant departments and local authorities to create a good environment for consumption and carry out a series of consumption promotion activities, said Gao.
Efforts will be made to expand the consumption of key commodities. The local authorities will be encouraged to finetune restrictive measures regarding car purchasing and promote vehicle consumption in rural areas and the scheme of trading in used cars for new ones.
According to an executive meeting held in November by the State Council, China's cabinet, in rural areas where conditions permit, residents will be encouraged to buy trucks with capacity no bigger than 3.5 tonnes and passenger cars with engines no bigger than 1.6 liters. Car buyers will be subsidized for phasing out the gasoline powered vehicles of national emission standard III or below.
"The new round of policies for automobile consumption in rural areas will strongly stimulate the sales of self-owned brands, joint-venture brand cars, light trucks and micro trucks. In terms of the trade-in scheme, relevant subsidies and supporting measures will help put in place the automobile consumption policies," said Cui Dongshu, secretary general of the China Passenger Car Association (CPCA).
According to the CPCA, in November this year, the domestic retail sales of passenger vehicles stood at 2.081 million units, an increase of 8 percent year-on-year. Since July this year, domestic passenger vehicle sales have maintained a year-on-year growth of about 8 percent, showing that the automobile market has steadily recovered.
Meanwhile, the MOC will also encourage local authorities to offer subsidies to those buying green smart home appliances and environmentally friendly furniture after eliminating their old home appliances and furniture.
The new model of "Internet + waste material recycling" will be encouraged to promote the upgrading of home appliances and furniture.
Data showed that the domestic consumption of household appliances has also picked up recently. In October, the retail sales of audio-visual appliances above designated size achieved positive year-on-year growth of 2.7 percent.
Behind the consumption growth, the output of the domestic household appliances also increases.
According to the Ministry of Industry and Information Technology (MIIT), in October, the output of household refrigerators nationwide increased 25.8 percent year-on-year; and that of household washing machines was 8.406 million units, a year-on-year increase of 10.2 percent. (Edited by Hu Pingchao with Xinhua Silk Road, hupingchao@xinhua.org)