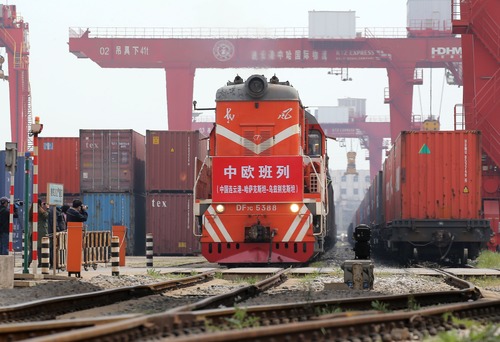 A China-Europe freight train loaded with medical supplies pulls out of a China-Kazakhstan logistics terminal in Lianyungang, east China's Jiangsu Province, April 14, 2020. (Wang Jianmin/Xinhua)
BEIJING, Dec. 10 (Xinhua) -- International transportation has been severely affected by COVID-19 epidemic since the beginning of this year, the China-Europe freight train service has played a pivotal role in land transportation, serving as a channel of life and bond connecting all, said Chinese Foreign Ministry spokesperson Zhao Lijian at a routine press briefing held on September 10, 2020.
Zhao added that the service helps countries along the route to resume production and work and restart economy, providing strong driving forces for stabilizing global industrial and supply chain and bringing new opportunities for global economic recovery and development.
-- China-Europe freight trains run at a new speed
Due to the short supply and rising prices of shipping and air transportation, the China-Europe freight train service is witnessing a new outbound peak.
The latest data shows that as of November 5, China-Europe freight trains had made 10,180 trips this year, exceeding the total of last year. 927,000 TEUs of goods were transported, up by 54 percent year on year, and the round trip fully loaded container rate reached 98.3 percent, hitting a new record.
Safety, speed and low costs are the direct reasons for more clients to choose the freight train service. Since the outbreak of the COVID-19 epidemic, the China-Europe freight train service has become the main transportation channel for Chinese and foreign companies to import and export due to the suspension of international passenger flights, roads and water transportation.
Along the China-Europe freight train routes, daily necessities, clothing, computers and other goods made in China are easily brought to European consumer markets; Spanish wine, Dutch cheese, Polish fruits, German cars, and biomedicine, maternal and child products as well as cabinets produced throughout Europe have entered the homes of ordinary Chinese people.
Chinese brands are "going global" while goods are being transported to China from across the world. "Polish milk is very good, and I also like Russian ice cream," said Mr. Mei, an employee with China Railway Wuhan Group.
Number of China-Europe Freight Trains in China's Main Ports and Cities in 2020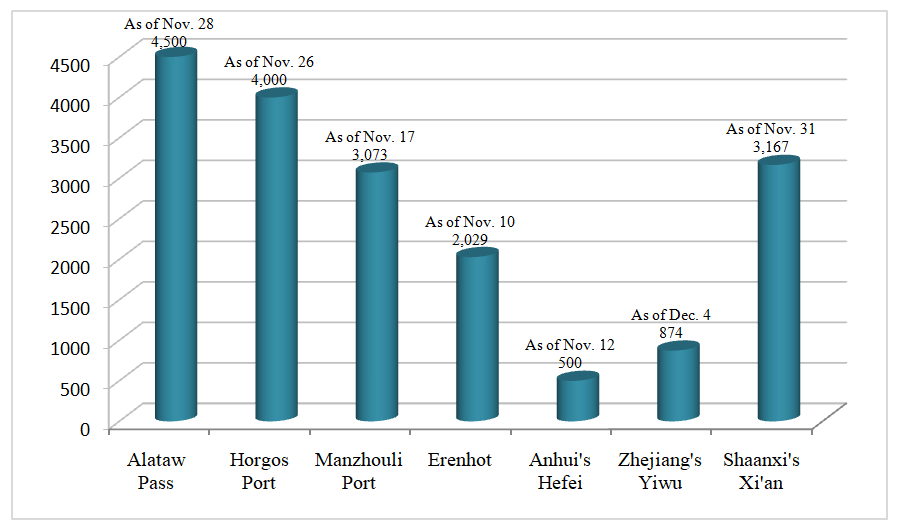 Source: National Railway Administration of the People's Republic of China
-- New routes to new directions
Since the beginning of this year, international sea and air transport logistics has been hindered by the epidemic, while the volume of goods delivered by China-Europe freight trains has bucked the trend and played a prominent role in ensuring the stability of international industrial chain and supply chain.
Many regions in China have also launched new China-Europe freight train routes, injecting new impetus into the stable development of global logistics chain amid the epidemic.
On September 1, China saw the first China-Europe freight train for cross-border e-commerce B2B exports launched in Chongqing.
"The successful launch of China-Europe freight train for B2B has opened up a new path for the export of goods by foreign trade enterprises. Through this path, foreign trade companies will have an easier and timely access to the global market, thus becoming an important guarantee for foreign trade stability," according to an official with Chongqing Port and Logistics Office.
On September 12 this year, a China-Europe freight train for cross-border e-commerce headed for Duisburg of Germany with 618.6 tonnes of goods. It was the first time for China-Europe freight train service to deliver such goods from Hubei to Europe, which has not only enriched the types and categories of goods but also realized the expansion and innovation of cross-border e-commerce operation models.
As learned from China Railway Shanghai Group, the first China-Europe freight train from Jinhua city of Zhejiang Province to France set off on November 26 and arrived in Dourges of France in 18 days. The launch of this train route will further promote the economic and trade exchanges between Zhejiang and European countries. To this point, the number of China-Europe freight trains operating in Jinhua was added to 14.
On November 28, a cargo train fully loaded with mechanical parts and anti-epidemic supplies departed from Xuzhou in east China's Jiangsu Province to Hamburg of Germany.
It was the first China-Europe freight train departing from Xuzhou to Germany, marking the strengthening logistics distribution capacity of Xuzhou as one of the freight hubs on the New Eurasian Continental Bridge.
Carrying 94 TEUs, the train planned to arrive at the destination in 15 days, passing through Kazakhstan, Russia, Belarus and Poland.
Although affected by the epidemic, the number of freight trains dispatched in Xuzhou this year is close to that of the total number in the last five years, demonstrating the booming demand for imports and exports of relevant goods in the northern part of the Yangtze River Delta.
The orderly operation of China-Europe freight trains has effectively facilitated the cooperation between China and European countries and countries along the routes in fighting against the epidemic, driven the development and prosperity of the global market, unblocked international freight channels, and provided a strong logistics guarantee for China's foreign trade and social economic development.
(Edited by Jiang Feifan with Xinhua Silk Road, 346129473@qq.com)