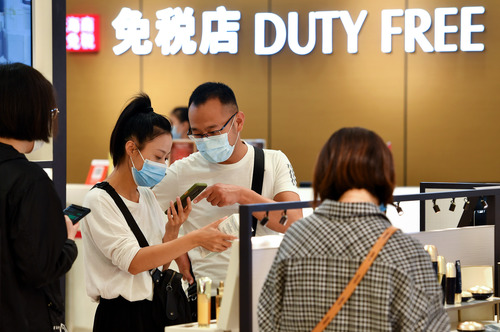 Customers shop at a duty-free store in Haikou, capital of south China's Hainan Province, Nov. 10, 2020. (Xinhua/Guo Cheng)
BEIJING, Nov. 20 (Xinhua) -- Many regional authorities in China have recently released new measures to bolster consumption and stimulate the Chinese market's vitality, reported Economic Information Daily Thursday.
Haikou, capital of south China's island province of Hainan recently issued policies on promoting consumption, expecting newly build and expand four offshore duty-free shops in Haikou within the year.
It is noted that sales of offshore duty-free shops in the province exceeded 12.01 billion yuan from July 1 to Oct. 31, up 214.1 percent year on year after the province increased its annual tax-free shopping quota on July 1.

Bulk commodities such as automobiles also play a part in the consumer market. Hainan, Hubei, Xinjiang, Beijing, and other regions offered incentives, including subsidies and trade-in, to stimulate the automobile market's consumption potential.
For example, from November 5 to December 31 this year, owners of the new automobile in Haikou will receive a subsidy of 3,000 yuan per vehicle, and the city will offer incentives for automobile sales to the retailer.
(Edited by Jiang Feifan with Xinhua Silk Road, 346129473@qq.com)