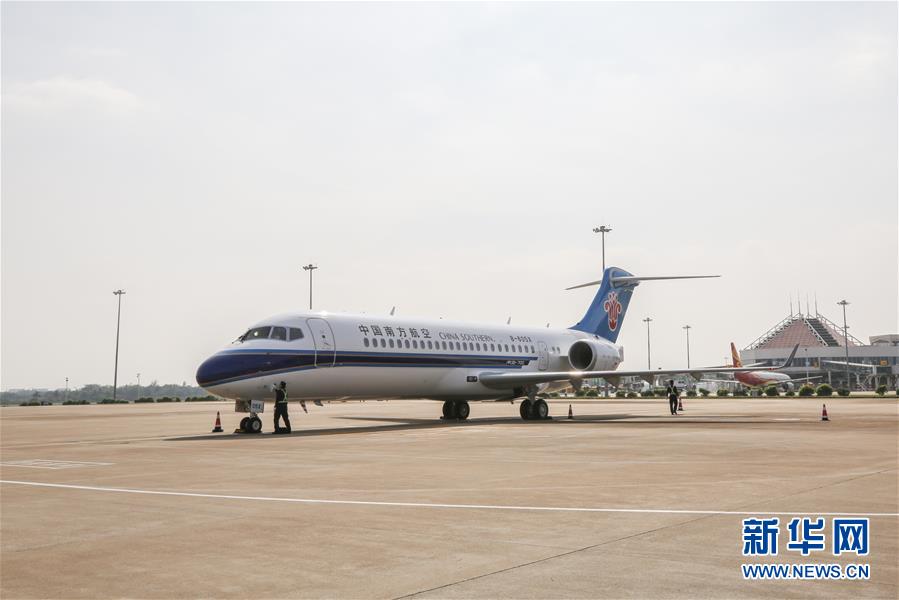 China Southern Airlines' domestically-made aircraft ARJ21-700 landed at Haikou Meilan International Airport on October 21. (Xinhua/ Zhang Liyun)
HAIKOU, Oct. 21 (Xinhua) – A homemade ARJ21-700 aircraft landed smoothly at the Haikou Meilan International Airport on Wednesday, marking completion of the first aircraft leasing project since debut of the master plan for the construction of Hainan Free Trade Port (FTP).
The project is expected to help Hainan accelerate the development of core industries in the aviation economy and related service chains.
Earlier in June, China Southern Air International Financial Leasing Co., Ltd. signed a cooperation agreement with the Haikou Jiangdong New Area and the Wednesday-debuted project is the first domestically-made aircraft leasing project of the company's parent China Southern Airlines Co., Ltd. in Hainan.
Xu Feng, general manager with China Southern Air International Financial Leasing Co., Ltd. said that aircraft leasing, as a complex financial service industry with high criteria and high value, can create new impetus to economic development, further improve local industry chain, and promote high-quality and three-dimensional economic development.
Currently, more than 50 percent of the operational aircraft worldwide are put into use by way of leasing, added Xu.
ARJ21-700 aircraft is the first regional jet independently developed by China. It is expected that China Southern Airlines will have 35 ARJ21 aircrafts by 2024.
In recent years, China Southern Airlines has opened multiple international air routes starting from Hainan, including the Haikou-Guangzhou-Seoul, Sanya-Guangzhou-Osaka, Sanya-Guangzhou-Delhi, Sanya-London, and Sanya-Bangkok air routes, to expand the FTP's links with the world. (Edited by Duan Jing with Xinhua Silk Road, duanjing@xinhua.org)