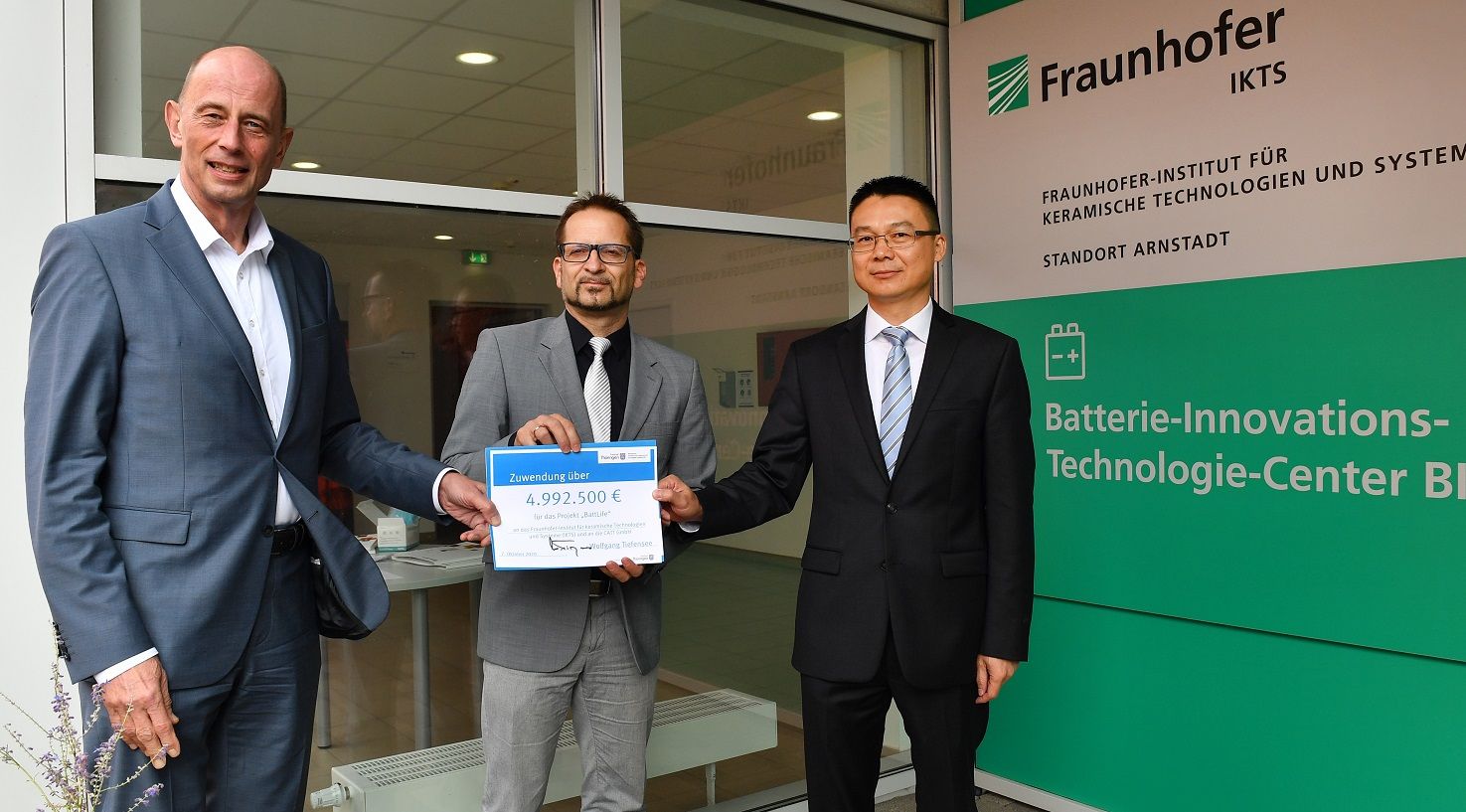 Wolfgang Tiefensee (l-r), Minister of Economics of Thuringia, Roland Weidl, Head of BITC, and Jason Chen, General Manager Operations Europe of Contemporary Amperex Technology Thuringia GmbH. (picture alliance / dpa)
A test center for batteries for electric cars is to be built in the coming years in the Erfurter Kreuz industrial park near Arnstadt, a town in the eastern German state of Thuringia. This is the first project of the Battery Innovation and Technology Center (BITC) founded in the summer, the Thuringian Ministry of Economics announced on Wednesday. The state is supporting the project with 5 million euros in funding.
The industrial partner is the Chinese battery manufacturer Contemporary Amperex Technology Limited (CATL), which is currently building its first European plant at the industrial park, which will provide up to 2,000 jobs. The factory for battery cells is expected to be completed in 2022.
According to the BITC, the tests will focus primarily on the service life of battery cells. The data obtained from these tests is a prerequisite for developing new approaches to predicting service life and triggering innovations. "Extending battery life is crucial for the further development and acceptance of e-mobility," explained BITC director Roland Weidl. Through the cooperation with CATL's Thuringia-based subsidiary, results could flow directly into the production process.
Thuringia's Economics Minister, Wolfgang Tiefensee, a member of the center-left Social Democrats (SPD), called the project an important contribution to the sustainable development of car batteries. But he also said that it "represents the beginning of an exemplary symbiosis of research and business, for which the state has made enormous efforts in the last three years." The goal, he said, remains to develop Thuringia into a leading battery location.

Notice: No person, organization and/or company shall disseminate or broadcast the above article on Xinhua Silk Road website without prior permission by Xinhua Silk Road.