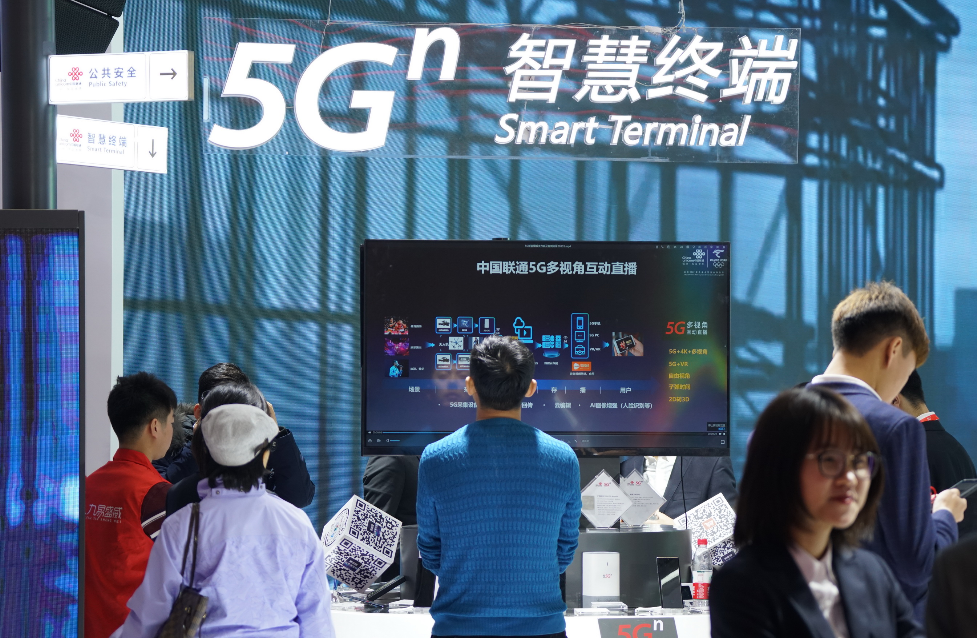 Visitors look at a 5G intelligent application booth at the 2019 World 5G Convention in Beijing, capital of China, Nov. 21, 2019. (Xinhua/Li Xin)
BEIJING, Aug. 17 (Xinhua) -- China has recently unveiled a string of policies to stabilize foreign investment, with new infrastructure as a key support field. With these positive signals, many multinational companies have increased their investments in the country's artificial intelligence (AI), industrial Internet and other fields, according to the Economic Information Daily on Monday.
For example, the Siemens PLM Software Company (Shanghai), an arm of German technology giant Siemens, inked an agreement with the government of Urumqi in Northwest China's Xinjiang Uygur Autonomous Region in early July to build a China-Europe digitalized industrial new infrastructure innovation base in the city.
The base aims to become a platform of technological innovation, intelligent manufacturing services and talent cultivation in areas such as intelligent manufacturing, new energy and the Internet of Things (IoT).
Earlier, on June 30, SAP, the largest software company in Europe, signed a project deal with Laiwu High-Tech Industrial Development Zone in east China's Shandong Province. With an investment of 200 million yuan (about 28.78 million U.S. dollars), the project will focus on the digital industry.
It is worth noting that a group of multinational companies such as Qualcomm and Schneider Electric are also bullish about the huge market potential released by China's accelerated new infrastructure, and are quickening their pace in the field investment.
Recently, Qualcomm Ventures, the venture capital arm of Qualcomm, has made venture capital investments in three Chinese companies, covering the IoT, AI and 5G applications.
Schneider Electric completed a cloud signing with China's battery giant Contemporary Amperex Technology Co. Limited (CATL) in early August and the two sides will cooperate in the fields of green smart factories, new energy power generation, safe power use, and energy storage.
The new infrastructure is becoming a new opportunity for foreign companies to invest in China under the background of the global economic recession since the COVID-19 outbreak. The trillions of new infrastructure projects and the huge market are bound to attract foreign companies, said Zhu Keli, head of the China Institute of New Economy.
Statistics from the Ministry of Commerce (MOC) show that in July, the amount of foreign capital in actual use stood at 63.47 billion yuan, a year-on-year increase of 15.8 percent, and it was the fourth consecutive month for the country to achieve positive growth in foreign investment in a single month.
In the first seven months of the year, a total of 18,838 new foreign companies were established in China. During the period, large-scale foreign-invested projects continued to be carried out and the foreign-funded projects each exceeding 100 million U.S. dollars accounted for 68 percent. Many multinational companies such as ExxonMobil, BMW, Toyota, and INVISTA have increased their investment and accelerated their development in China, according to Zong Changqing, director of the Department of Foreign Investment Administration under the MOC. (Edited by Hu Pingchao with Xinhua Silk Road, hupingchao@xinhua.org)