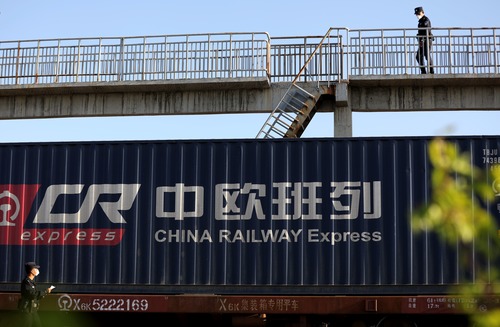 Policeman checks an outbound China-Europe freight train at Horgos Pass in northwest China's Xinjiang Uygur Autonomous Region, April 20, 2020. (Photo by Zhang Jia/Xinhua)
URUMQI, Oct. 10 (Xinhua) -- A total of 10,000 China-Europe freight trains have traveled through Horgos Port, a major border port in northwest China's Xinjiang Uygur Autonomous Region since the freight service launched at the port, reported Chinanews.com Wednesday.
A freight train that departed from Chongqing in southwest China, heading for Duisburg in Germany on October 6, became the 10,000th train to pass through the port.
The cargo train fully loaded with 800 tonnes of 41 containers of goods, such as daily necessities and auto parts, valuing about 60 million yuan, and it is expected to arrive in Germany in 18 days.
The port dealt with 3,243 China-Europe freight trains in the first nine months of the year, up 32 percent year on year, local customs data showed.
Meanwhile, the port operated 78 outbound China-Europe freight trains from October 1 to October 6 during China's National Day holiday, mainly heading for Germany, Poland, Uzbekistan and Kazakhstan.
The local government at Horgos in Xinjiang has launched multiple supportive policies concerning customs clearance, logistic costs and financial support to ensure timely and stable transportation of the freight trains.
(Edited by Jiang Feifan with Xinhua Silk Road, 346129473@qq.com)