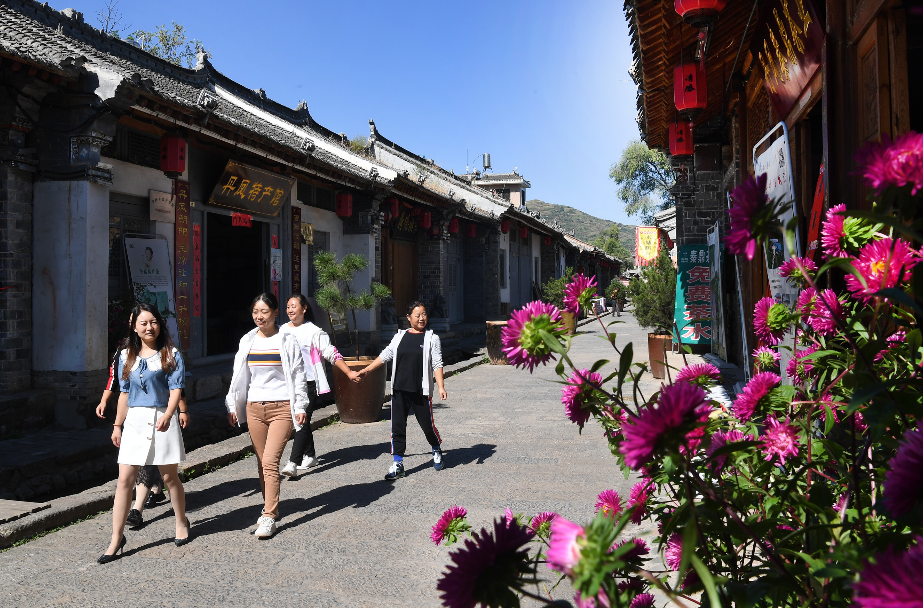 Tourists visit Dihua ancient town in Danfeng County, Shangluo City of northwest China's Shaanxi Province, Sept. 18, 2020. Dihua ancient town has attracted many tourists with its well protected ecological environment, rich history and unique folk customs. (Xinhua/Tao Ming)
BEIJING, Sept. 24 (Xinhua) -- China is expected to see a booming tourism market in the upcoming National Day holiday from October 1 to 8, according to a report recently released by China's largest online travel agency Trip.com Group, formerly known as Ctrip.
From the perspective of the recovery of the domestic tourism market, the eight-day holiday this year is expected to have more than 600 million tourists, equivalent to 70 percent to 80 percent of the marker performance before the epidemic, said the report.
Trip.com report shows that before the National Day holiday this year, more than 1,500 scenic spots across the country provided free tickets or discounts, and more than 20 provinces and cities have rolled out the travel coupons, with the aim to stimulate the domestic tourism market hit hard by the epidemic outbreak.
While promoting the recovery in the tourism consumption, the epidemic prevention and control still cannot be relaxed, cautioned by the authorities.
Tourist spots nationwide will be allowed to fill 75 percent of their operating capacity, the Ministry of Culture and Tourism said earlier in a statement.
National tourist attractions with the highest 5A-level ratings and major 4A-level spots are encouraged to implement the reservation system, the ministry added.
Visitors are required to have their body temperature checked before entering scenic areas, and practice social distancing while using public transport and dining in restaurants, among other public places. (Edited by Hu Pingchao with Xinhua Silk Road, hupingchao@xinhua.org)