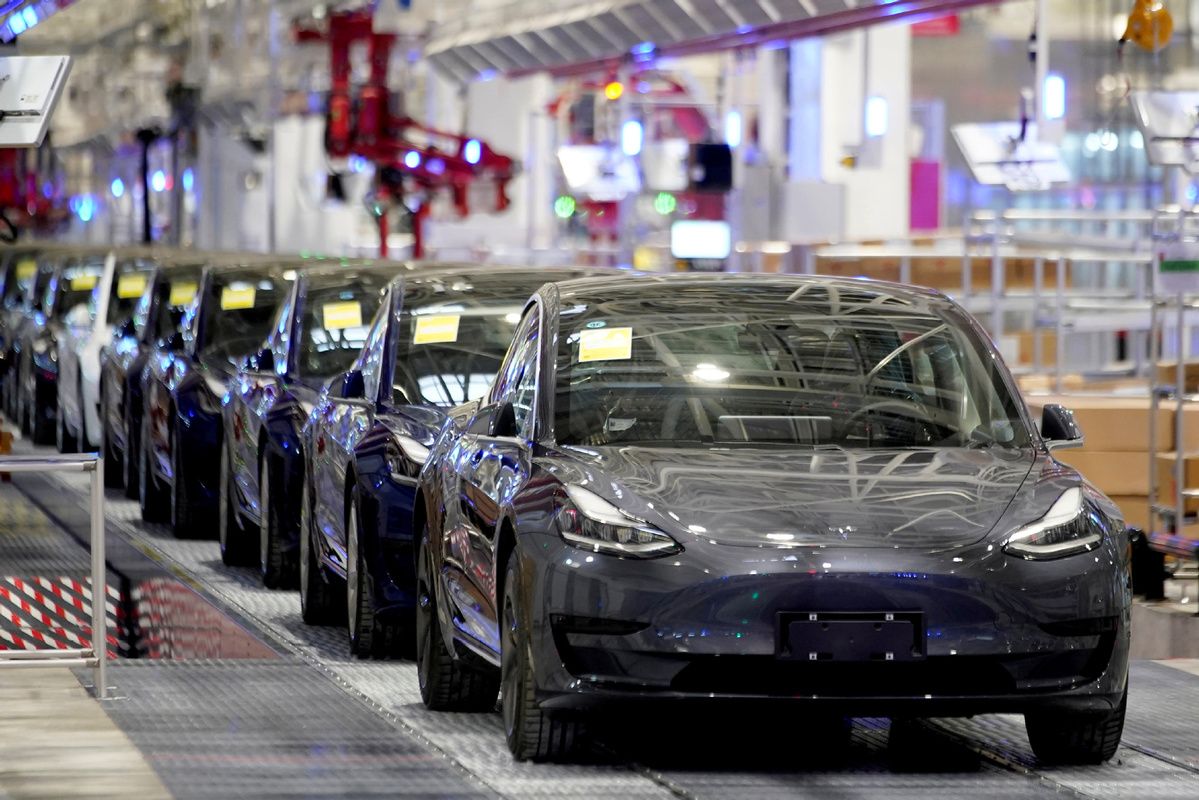 Tesla China-made Model 3 vehicles are seen during a delivery event at its factory in Shanghai, on Jan 7, 2020. [Photo/Agencies]
China has taken a series of measures to further open its manufacturing sector to overseas companies, which has significantly boosted foreign investors' confidence in the nation's gigantic market and attracted more overseas investments, experts said.
Wang Peng, deputy head of the China Center for Information Industry Development, a Beijing-based think tank, said the 2020 version of negative list for foreign investment has phased out the equity caps for foreign investors in commercial vehicle joint ventures and abolished regulations that prohibit foreign investment in the smelting and processing of radioactive minerals and nuclear fuel production.
"Canceling an item or relaxing a regulation on the negative list showcases China's efforts to further open up a new field, which can continuously attract more international resources to flow into the nation's sprawling manufacturing industry," Wang said.
For instance, the cap in the new energy vehicle industry was removed in the second half of 2018 for international carmakers. Several months later, US electric carmaker Tesla Inc kicked off its wholly-owned plant in Shanghai in January 2019, with its first vehicle rolling off the assembly line in the same year.
Local production has enabled the carmaker to further cut the costs of its Model 3 electric car, and be one of the bestselling models in China from this year. In June, Tesla accounted for 23 percent of China's purely electric car market, according to data from the Ministry of Industry and Information Technology. Tesla has also indicated that it would start making the Model Y from Shanghai.
Such efforts are part of the nation's broader push to expand opening-up, promote globalization and inclusive development, said the experts.
President Xi Jinping on Tuesday called for efforts to promote deeper-level reform and pursue higher-level opening-up to provide strong impetus for establishing a new development pattern.
While presiding over the 15th meeting of the central committee for deepening overall reform, Xi stressed that accelerating the establishment of a new development pattern featuring dual circulation, which takes the domestic market as the mainstay while letting domestic and foreign markets boost each other, is a strategic decision made in accordance with changes in China's development stage, environment and conditions.
Analysts said the removal of the equity cap in the commercial vehicle sector, including trucks and buses, will also trigger more interest from foreign companies.
Martin Lundstedt, CEO of Volvo Group, a major Swedish truck maker, told China Daily in an earlier interview that the move provides foreign companies with more choices when investing in China.
Having been in China for more than 20 years, the Swedish manufacturer of vehicles, engines and construction equipment hopes to better tap into the country's booming e-commerce sector, and sees more opportunities resulting from the government's growing emphasis on green initiatives, sustainable development and innovation, Lundstedt said.
France's Renault has shown increasing interest in China's commercial vehicles market.
According to a broader plan announced by China to remove the limits on foreign investment in the country's car manufacturing joint ventures, such limits will be scrapped for international gasoline passenger car producers starting from 2022.
(Source: China Daily)