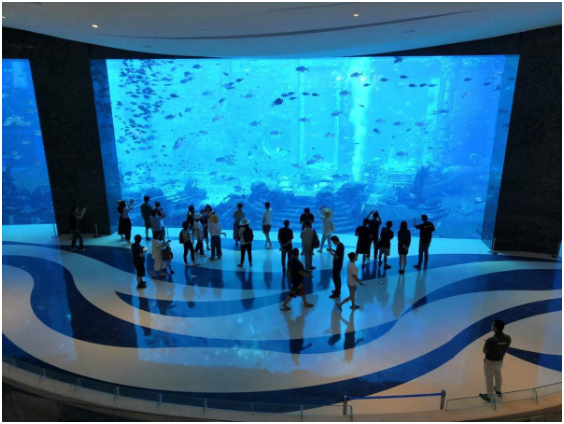 The Lost Chamber Aquarium at Atlantis Sanya attracts around 6,000 visitors every day in July. [Photo by Ma Zhiping/ China Daily]
China's opening-up policy has served as a lifeline for Hainan's economy and a driver of the island province's rapid development over the past three decades. It is also the primary strategy for building a free trade zone and free trade port.
In the past two years, Hainan has been committed to taking opening-up as a top priority. The resort island offers greater visa-free access and duty-free shopping for tourists and built an air transport network called four-hour and eight-hour flight economic circle as well as implemented a free trade account system.
With the big push toward an international tourism and consumption center, consumer goods have become the top commodity imported by Hainan in the past two years, with total imports shooting up 76.8 percent to reach 25.48 billion yuan.
The COVID-19 pandemic has devastated the tourism and retail sectors, as much of the world stayed home and airplanes sat idle for months. But in South China's Hainan Free Trade Port (FTP), duty-free stores are ready to bring back the big-spending bargain hunters with the island positioned as an international tourism and consumption destination.
Starting from July 1, Hainan has increased its annual tax-free shopping quota from 30,000 yuan to 100,000 yuan per person.
The range of duty-free goods has also expanded, growing from 38 categories to 45, while the previous tax-free limit of 8,000 yuan for a single product has been lifted.
The sales of commodities with a unit price of over 8,000 yuan increased significantly. In July, the sales of goods priced over 8,000 yuan stood at 650 million yuan for 34,000 single products, 4.5 times and 3.3 times as much as the same period last year, respectively.
Hainan recorded 2.22 billion yuan (about $317.45 million) in duty-free shopping by tourists from July 1 to 27, up 234.19 percent from the same period last year, the General Administration of Customs said.
During the period, about 281,000 tourists visited the island, up 42.71 percent year-on-year.
Statistics also revealed that since July, among all duty-free products, cosmetics have been the champion in both sales volume and sales amount.
The number of cosmetics has also been increased from 12 pieces per person each time off the island to 30 pieces. And the price is equivalent to 30 percent off the normal market price, which is even 10-20 percent lower than the average selling price in traditional popular markets such as Japan, South Korea, and Singapore.
While gloomy business sentiment persists, there have been encouraging signs that Hainan's revamp is on track. Despite a plummet in tourism in the first half of 2020, the island's duty-free sales hit 1.9 billion yuan ($279 million) in May, up 147.9 percent from the previous year.
As China reopened its economy, this year's Labor Day holiday saw returning domestic tourists spend $28 million in Hainan's duty-free shops, far exceeding expectations, according to Charles Chen, president of CDFG.
"It is a very encouraging result and signal to us. Offshore duty-free has become a popular choice for Hainan tourists, whose purchasing power ains strong," Chen said. "They also bring us great confidence for the future."
(Source: CGTN)