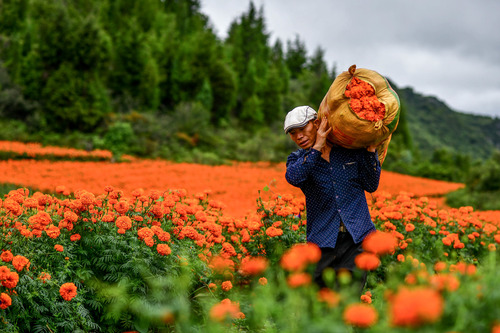 A farmer carries a sack of marigold flowers in Qiubei County, southwest China's Yunnan Province, Aug. 13, 2020. (Xinhua/Hu Chao)
BEIJING, Aug. 19 (Xinhua) -- Northwest China's Yunnan Province saw its major economic indicators continue to pick up in July, as the province advanced its resumption of work and production amid the epidemic, reported Yunnan Daily Tuesday.
In July alone, the province's industrial added value above the designated size surged 4.1 percent year on year, while the added value of state-owned enterprises and joint-stock enterprise picked up 8.5 percent and 4.4 percent year on year, respectively.
Yunnan saw its purchasing manager index (PMI) stood at 50.9 percent in July, down 0.5 percentage points from the previous month.
From January to July, the province's industrial electricity consumption amounted to 67.15 billion kWh, an increase of 10.3 percent year on year.
In the first seven months, fixed asset investment in the province edged up 4.8 percent year on year, and the total volume of retail sales of consumer goods fell 7.7 percent year on year, 0.9 percentage points lower than that in January to June period.
(Edited by Jiang Feifan with Xinhua Silk Road, 346129473@qq.com)