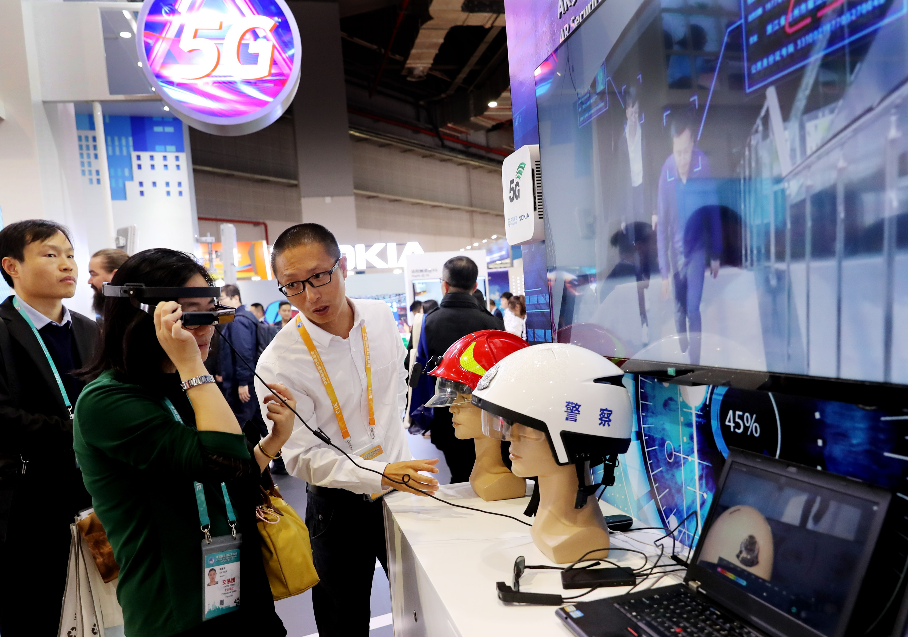 A visitor tries out an AR security device based on Nokia's 5Gtechnology at the First ChinaInternational Import Expo in Shanghai, east China, Nov. 5, 2018. (Xinhua/Fang Zhe)
BEIJING, July 29 (Xinhua) -- East China's Yangtze River Delta region has pressed the fast forward button in the construction of new infrastructure such as 5G networks and industrial Internet platforms, the Xinhua-run Shanghai Securities News reported on Wednesday.
Shanghai announced Tuesday at an industrial Internet conference to start construction of a number of functional platforms such as the Yangtze River Delta regional integrated industrial Internet public service platform, and some industrial Internet platforms in construction, medicine and other fields.
According to the three-year action plan (2020-2022) for promoting innovation and upgrading of the industrial Internet recently released by Shanghai, the city aims to achieve the scale of the core Internet industries from 80 billion yuan (about 11.43 billion U.S. dollars) to 150 billion yuan by 2022.
Shanghai is making efforts to create a highland for industrial Internet development. At the conference on Tuesday, Shanghai's local authorities signed contracts with a group of key industrial Internet companies such as Molecular Data Inc., Kyland Technology Co., Ltd., and JaJa Intelligent.
Specifically, Molecular Data Inc. is the first Chinese industrial Internet company that went public in the United States, and it will establish a joint venture (JV) with Jinshan District of Shanghai to build a new material supply chain industrial base. Kyland Technology, a listed company focusing on industrial Internet technology and industries, will focus on Jiading District of Shanghai for its headquarters projects and promote development of the intelligent manufacturing.
In addition to Shanghai's efforts, the provinces under the ambit of the Yangtze River Delta region have also unveiled their plans for the new infrastructure construction.
For example, Zhejiang province on July 10 rolled out a three-year action plan for the construction of new infrastructure. According to the plan, Zhejiang will complete a new infrastructure investment of nearly 1 trillion yuan within three years. By 2022, Zhejiang will build 120,000 5G base stations.
As a major manufacturing province, Jiangsu is also using 5G to promote large-scale technological transformation. Latest data from the Industry and Information Technology Department of Jiangsu shows that the province built 25,000 5G base stations in the first half of this year, bringing the total number to 41,000. It will invest 200 billion yuan in the 5G new infrastructure in the next three years.
The Yangtze River Delta region consists of Shanghai Municipality and the provinces of Jiangsu, Zhejiang and Anhui. As one of China's most economically active, open and innovative regions, the Yangtze River Delta region produces about one-fourth of the national GDP. (Edited by Hu Pingchao with Xinhua Silk Road, hupingchao@xinhua.org)