BEIJING, July 13 (Xinhua) -- The Baltic Exchange has published its weekly report of the dry and tanker markets for July 6-10, 2020 as below:
Capesize
This week witnessed the dreaded correction in the Capesize market, with the timecharter average shedding almost 18 percent to close the week at $27,644. But in recent context, this cannot be considered as anything other than healthy. The Pacific round - and the backhaul - proved to be the biggest drivers. Both lost approximately 25 percent on the week, although all routes posted losses - including the crucial Brazil round and north Atlantic fronthaul, which dropped 19 percent and 13 percent respectively on the week. Polling day in Singapore on Friday brought the week to an abrupt end, but Vale were said to be active on Thursday, being linked with a weaker C3 fixture at $18.50 basis a mid-August laycan. Nevertheless, broad sentiment remains strong. Several brokers indicated that the market had merely plateaued and was set for a renewed push next week, citing the iron ore forward curve as a pointer to China's large demand for the material.
Panamax
A tumultuous week in the Panamax market ensured all markets gained value on the week. The Atlantic, which was the largest mover, saw rates attaining close to $3,000 overall. This was an improvement on the start of the week, with front-haul rates commanding large premiums to entice owners to consider same in consideration of losing their advantageous position for trans-Atlantic trips paying akin to $17,000. Shorter Baltic round trips were regularly fixed at $20,000 plus, whilst strong demand ex Black sea continued. Charterers in one case reported placing tonnage delivery India for the same. In Asia, some genuine concerns now appear real, with new crew regulations enforced by the Australian Maritime Safety Authorities contributing to premium numbers paid to the few candidates able and confident enough to comply. But good all round demand this week has seen decent activity in the basin with circa $12,000 returning as average rates for the Kamsarmax fleet for vanilla P3A pacific rounds.
Supramax/Ultramax
BSI maintained its positive moves gaining 127 points over the week. With a lack of prompt tonnage in the Atlantic, some stronger numbers were being paid from key areas on the ultramax vessels. From Asia the week was more staggered with less pressure from the Indian Ocean rates eased across the region. Period activity was limited, but a 63,000dwt open far east end of August was failed for 11-13 months trading in the mid $10,000s. From east coast south America, ultraxmax vessels gained a 63,000 with eta on the coast end July was fixed in the upper $14,000s plus upper $400,000s ballast bonus. The US Gulf also saw increases and a ultramax was fixed at $18,000 for a trans Atlantic run. A short week with the holiday in Singapore on Friday slowed trading down. However, a 58,000 was reported fixed delivery South Korea for a NoPac rounds at $9,000. Elsewhere a 63,000dwt was fixed delivery Arabian Gulf via Pakistan redelivery Bangladesh at $16,500.
Handysize
The US Gulf market moved quickly this week, with decent volumes emerging - especially petcoke. Together with east coast South America, rates continued climbing which pushed the BHSI to a higher level. However, there was a bit of a division between the two basins. Atlantic routes further improved throughout the week, but the Pacific remained slow. Brokers suggested a wider spread between owners and charterers particularly for Far East delivery vessels. Prompt tonnage supply in the East still appeared to be excessive with limited activity. On the period front this week, a 30,000dwt open in the Continent was fixed for three to five months at $7,000. For single trip out of the US Gulf area, large Handy vessels were fixed to Brazil with clean cargo between mid $6,000s to mid $7,000s. A transatlantic run paid $9,600 for moving petcoke on an eco and well-described vessel. In the East, a 32,000dwt delivery Vizag was fixed for a trip to Southeast Asia at $11,050.
Clean
In the Middle East Gulf, rates for 75,000mt to Japan have been under constant pressure with the market easing just over five points to WS65. It was a similar story in the 55,000mt trade with the market drifting down from WS70 at the start of the week to be assessed now at barely WS61.5. The 37,000mt UKC to USAC trade started the week at WS80. But relentless chipping away by charterers saw rates lose a further 10 points to WS 70. It was again in the backhaul business from the US Gulf where owners were able to consolidate their previously modest gains. The market nudged up a further three points with rates for 38,000mt to UKC now hovering around WS86.75 region. It was another disappointing week for owners in the 30,000mt clean cross-Med with rates losing a further three points to settle at just above WS 85.
VLCC
Rates firmed this week across the board in this sector. In the Middle East Gulf, 280,000mt to USG via the Cape/Cape routing is assessed three points up at WS25, while rates for 270,000mt to China sit 11 points higher at WS46.5. A similar tale unfolded in the Atlantic region. Rates for 260,000mt West Africa to China also saw 11 points gained to WS47.5 and voyages of 270,000mt US Gulf to China increased $1.5m to sit at $6.8m now.
Suezmax
Rates for 135,000mt Black Sea/Med have gained 2.5 points to WS55 level, while the market for 130,000mt West Africa/UKCont has steadied at WS52. For the 140,000mt Middle East Gulf to Med trip, owners have managed to claw back last week's lost couple of points and again sits at WS21.
Aframax
In the Mediterranean market, weak sentiment from owners prevails with the market improving a mere 2.5 points to WS60 level for 80,000mt Ceyhan/Med. In Northern Europe rates turned sideways with 80,000mt Hound Point/UKCont stuck at WS71-72 region, and for 100,000mt Baltic/UKCont at WS41-42 level. Across the Atlantic, rates are up a modest 2.5 points, with 70,000mt Carib/USGulf now at WS68.75 and WS67.5 for 70,000mt USGulf/UKCont.
Headquartered in London and a subsidiary of the Singapore Exchange (SGX), the Baltic Exchange publishes a range of indices and assessments which provide an accurate and independent benchmark of the cost of transporting commodities and goods by sea. These include the Baltic Dry Index (BDI), the dry bulk shipping industry's best known indicator. Published daily since 1985, this provides a snapshot of the daily spot market earnings of capesize, panamax and supramax vessel types on the world's key trading routes.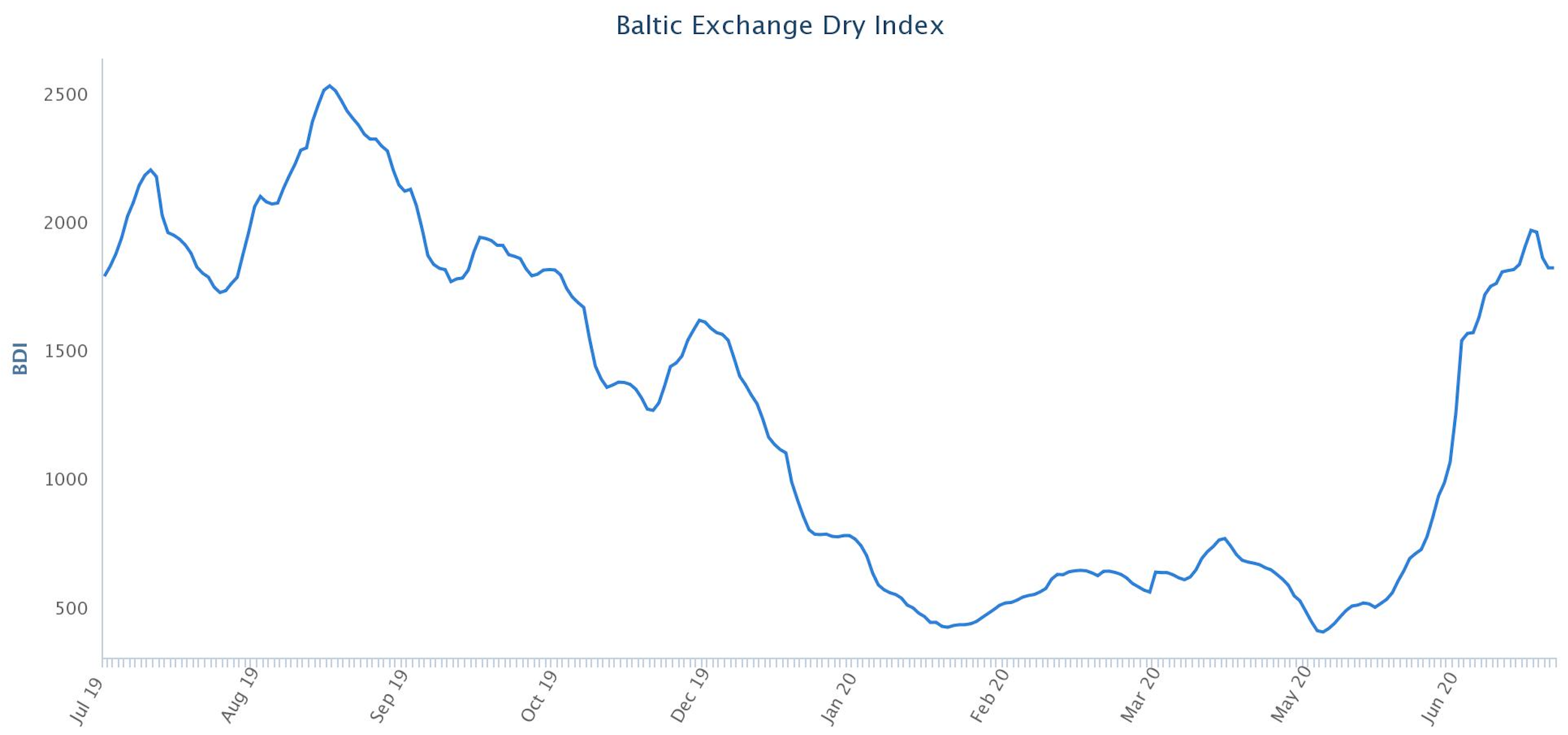 Chart shows Baltic Dry Index (BDI) during July 11, 2019 to July 10, 2020
In March 2018 the BDI was re-weighted and is published using the following ratios of timecharter assessments: 40 percent capesize, 30 percent panamax and 30 percent supramax. The information is provided by a panel of international shipbrokers.
(Source: The Baltic Exchange, edited by Niu Huizhe with Xinhua Silk Road, niuhuizhe@xinhua.org)