The State Council, China's cabinet, had formally approved the establishment of China (Henan) Pilot Free Trade Zone on 31th August, 2016. China (Henan) Pilot Free Trade Zone covers an area of 119.77 square kilometers, including 73.17 square kilometers in Zhengzhou,19.94 square kilometers in Kaifeng and 26.66 square kilometers in Luoyang.
Taking the institutional innovation as core and the adaptable and propagable approaches as basic requirements,advancing the building of a modern multimodal traffic and logistics network linking up the north and the south and connecting the east and the west, building Henan Pilot Free Trade Zone into a modern comprehensive transportation hub, an all-round reform and opening-up pilot area and an inland open economy demonstration zone to serve the Belt and Road initiative (BRI).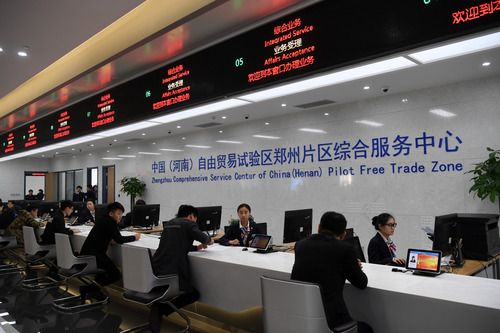 Photo taken on April 1, 2017 shows the Zhengzhou Comprehensive Service Center of China (Henan) Pilot Free Trade Zone in Zhengzhou, capital of central China's Henan Province. China takes free trade zones (FTZ) up to 11, with seven new FTZs starting operation on Saturday. (Xinhua/Zhu Xiang)
Zhengzhou Area focuses on the development of modern manufacturing, such as intelligent terminal, advanced equipment, automobile making and bio-pharmaceuticals, and modern services, such as modern logistics, international business, cross-border e-commerce, modern finance, service outsourcing, creative design, commerce exhibition and cartoon&game. Meanwhile, Zhengzhou Area will push forward system and mechanism reform to promote the coordinated development of transportation and logistics and make investment and trade here more convenient, build an international multimodal transport and logistics center, and play its role of modern comprehensive transportation hub serving BRI.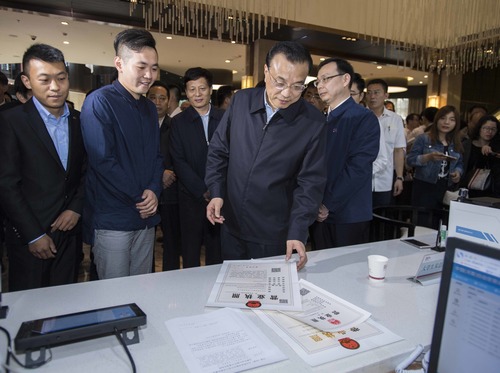 Chinese Premier Li Keqiang (front R) visits the Kaifeng comprehensive service center of China (Henan) Pilot Free Trade Zone in Kaifeng, central China's Henan Province, May 8, 2017. Li made an inspection tour to central China's Henan Province on May 8 and 9. (Xinhua/Li Tao)
Kaifeng Area gives priority to the development of service outsourcing, medical tourism, creative design, cultural media, cultural finance, artwork trading and modern logistics. Meanwhile, Kaifeng Area will deepen the international cooperation and trade in equipment manufacturing and agricultural and sideline products processing, build a platform for international cultural trade and tourism, and create a service & trade innovation area and a cultural opening pilot area to promote the integrated development of international culture and tourism.
Luoyang Area concentrates on the development of advanced manufacturing, such as equipment manufacturing, robots and new materials, and modern services, such as R&D and design, e-commerce, service outsourcing, international cultural tourism, cultural creativity, cultural trade and cultural presentation. Meanwhile, Luoyang Area will increase the abilities in transformation and upgrading of equipment manufacturing and in international capacity cooperation, build an international intelligent manufacturing demonstration area, and push forward the building of inheritance area of Huaxia (Chinese) Civilization.