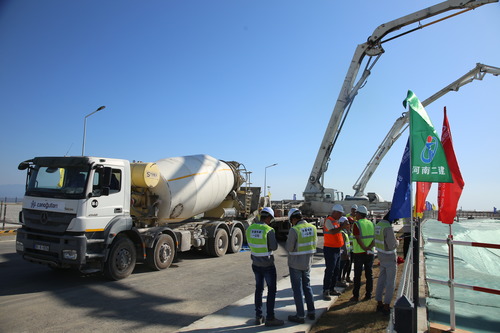 Workers are seen on the construction site of the Hunutlu Thermal Power Plant in Adana, Turkey, on Sept. 22, 2019. The Hunutlu Thermal Power Plant, China's biggest project with direct investment in Turkey, officially started construction on Sunday in the southern province of Adana. The project, with a total investment of 1.7 billion U.S. dollars mainly from the Shanghai Electric Power Company, is a flagship project linking the China-proposed Beltand RoadInitiative with Turkey's "Middle Corridor" vision. (Xinhua/Zheng Siyuan)
The vision is to build a global community of shared future.
The joint efforts to build the Belt and Road reflect humanity's common aspiration for a bright future. More and more members of the international community have identified with the idea of building a global community of shared future advocated by the Belt and Road Initiative. The idea is in harmony with the need for world economic development and the direction of the progress of world civilization.
The initiative is becoming an important platform for building a global community of shared future.
- Proposed by China but belonging to the whole world. The Belt and Road covers different regions at different stages of development that have different cultures. It is an open and inclusive platform and a global public product forged by all parties involved. Directed toward a shared future for humanity, the Belt and Road Initiative upholds its noncompetitive and nonexclusive nature to the fullest extent. It reflects the international community's demand for a global governance system that is fair, egalitarian, open and inclusive. It is an important public product oriented toward today's world. As UN Secretary-General António Guterres has pointed out, the Belt and Road Initiative and the United Nation's Millennium Development Goals share the same grand goals, and both are public goods offered to the world. The Belt and Road Initiative not only promotes international trade and people-to-people exchanges, but also enhances understanding between countries and reduces cultural barriers, to ultimately achieve peace, harmony and prosperity.
- Offering a Chinese approach to reforming the current global governance system. Our world today faces challenges such as an insufficient drive for growth, an out-dated governance structure, and imbalanced development. Being open and inclusive and aiming for common development, the Belt and Road Initiative transcends differences in social systems and cultures, respects the diversity of world civilization and the coexistence of diverse cultures, and emphasizes mutual complementarity and mutual benefit among countries at different levels of economic development. It focuses on improving conditions and creating opportunities for development, strengthening the drive for development, and sharing the fruits of development. It propels the interaction between global governance, security, and development - an attempt to provide an alternative solution to these issues as they have not been addressed effectively in isolation over long periods of time.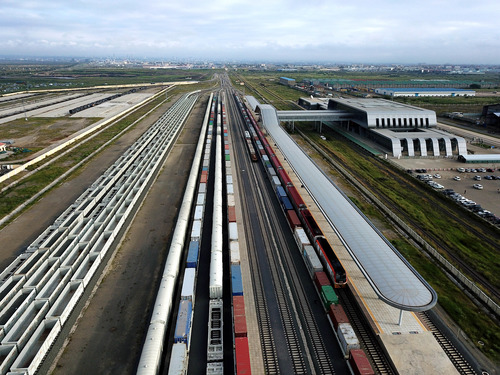 Aerial photo taken on June 3, 2018 shows trains stop at the Nairobi railway station in Nairobi, capital of Kenya. In the past five years, China and African nations have deepened political mutual trust, mutual assistance in development and mutual learning in vision, and made concerted efforts in building the Beltand Roadand a closer China-Africa community with a shared future. (Xinhua/Wang Teng)

- Binding together B&R countries to share a common future. We have only one earth, and all countries share the same planet. To meet the various challenges faced by humanity and work for a bright future in which the whole world enjoys peace, prosperity and development, countries across the globe should share the rough times and the smooth and build an open, inclusive, clean, and beautiful world that enjoys lasting peace, common security, and shared prosperity. The concept of a global community of shared future involves combining interests, seeking common feelings, values, and responsibilities, and sharing the benefits of development. The Belt and Road Initiative calls for mutual support and assistance and is informed by equality, cultural affinity, and empathy. It upholds the principles of seeking common ground while reserving differences, inclusiveness, mutual understanding, communication and dialogue, and interactions on an equal footing. We should regard the development of other countries as our own opportunity and promote the convergence of China's development opportunities with those of its B&R partners and other countries in the wider world, so as to ensure that our development benefits both sides of cooperation and all relevant parties. During its four decades of reform and opening up, China has accumulated a wealth of experience that can be used by other countries. It has no desire to export its ideology and no intention to impose its development model on other countries. It is willing to share its experience with other countries and create a bright future together with its B&R partners under the B&R framework.