BEIJING, March 26 (Xinhua) -- China highlighted mental health in fighting diseases and has integrated mental support, psychological assistance as well as crisis intervention measures into its comprehensive approach on combating the novel coronavirus disease (COVID-19).
The country has released a series of work plans, pinning psychological wellbeing of those working in the front line and positive mentality among patients and quarantined people as important parts of epidemic prevention and control work.
The work plans have been timely adjusted as the country sees positive signs in taming the epidemic, with new measures rolling out for helping bereaved families better handle grief, helping recovered patients and their families return to normal lives, preventing disease-related stigma as well as helping the general public seek outlets for their unhealthy emotions due to long-term quarantine.
Strict protection of personal privacy is stressed for all psychological assistance practices.
The work plans and protocols listed below, together with photos on what has been done in the real battlefield, try to provide the world community with more ideas on better supporting patients and medics through difficult times while act as a positive note against the overwhelming uncertainties.
Chinese health authority Thursday said that no new domestically transmitted cases of COVID-19 were reported on the Chinese mainland on Wednesday.
Latest Work Plan on Psychological Assistance issued by the State Council Inter-Agency Task Force for Epidemic Control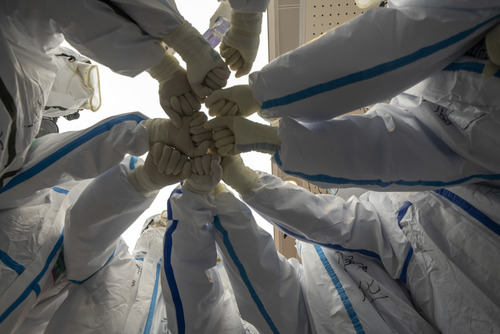 Photo: Medical workers cheer up each other before the closure of the Wuchang temporary hospital in Wuhan, central China's Hubei Province, March 10, 2020. The final batch of 49 patients walked out of the Wuchang temporary hospital Tuesday afternoon. The last two temporary hospitals in Wuhan, the epicenter of the coronavirus outbreak in central China's Hubei Province, were shut down Tuesday, marking the closure of all 16 temporary hospitals in the city. (Xinhua/Fei Maohua)
Measure Highlights
Help recovered patients and their families return to normal lives and prevent stigma around the disease at community level
Mobilize social service organizations and mental health facilities to provide the bereaved families with social support and psychological counseling services to help them better handle grief
Set up special work teams composed of mental health professionals, social workers and volunteers in hard-hit regions particularly in Hubei and its provincial capital Wuhan, to provide psychological assistance for recovered quarantine-in patients
Continuous care for the psychological wellbeing of those working in the front line
Help the general public seek outlets for their unhealthy emotions due to long-term quarantine
Previous Protocols on Psychological Assistance issued by the National Health Commission and the Ministry of Civil Affairs
COVID-19 Treatment Designated Hospital Protocol

Photo: Li Yanyan demonstrates how to put on mask to volunteers at Mawangdui section of People's Hospital of Hunan Province in Changsha, central China's Hunan Province, Feb. 6, 2020. The hospital organized training courses for nurses who volunteered to join the fight against the novel coronavirus. The training includes psychological counseling, standard procedures of putting on and taking off protective suits and knowledge on epidemic prevention and control of the novel coronavirus. (Xinhua/Chen Zeguo)

Create Healthy Mental Environment
Adjust lighting conditions in concert with treatment requirements
Assist patients to stay in touch with families and friends
Provide health education on physical disease treatment to patients with mild symptoms
Carry out mental health education in multiple forms based on patients' health status
Patient Psychological Assistance and Crisis Intervention
Assist patients through self-adjustments with mental support
Provide crisis intervention and psychiatric medication for patients diagnosed with psycho-behavioral problems
Establish psychological assistance records
Medical Staff Psychological Assistance and Crisis Intervention
Keep updated with actual needs of medical staff, and provide mental health suggestions
Provide psychological assistance and crisis intervention when needed
Makeshift Hospital Protocol

Photo: Medical worker Yi Qin teaches as patients follow during a traditional Chinese physical exercises session at a temporary hospital in Jiangxia District in Wuhan, central China's Hubei Province, Feb. 25, 2020.(Xinhua/Shen Bohan)

Create Healthy Mental Environment
Encourage patients to quickly adapt to the living environment in makeshift hospitals
Guide patients to comply with medical checks and treatment as well as adjust daily lives accordingly
Encourage patients to keep in touch with their families and friends
Encourage patients to stay on course with their previous study and occupational plans if physical conditions allow so
Provide QR codes and hot-line numbers for psychological assistance and social work service, and better educate the patients with scientific information
Play relaxing and soothing background music or entertaining television programs as part of routine
Adjust lighting conditions and organize activities that help with recovery in concert with medical treatment and care arrangements
Stay in active contact with community resources to tackle patients' urgent personal needs
Patient Psychological Assistance and Crisis Intervention
Encourage self-help psychological participation for patients and timely detect people at high-risk
Keep abreast of patients with psycho-behavioral issues or a previous history of psychiatric illness
Set up independent mental health and social work service rooms or psychiatric exam rooms if conditions allow so
Strengthen patient safety examinations upon admission
Establish psychological assistance and social service records
Medical Staff Mental Support and Psychological Assistance
Provide prompt mental support to medical staff and conduct psychological first aid in case of emergency
Provide stress-relieving audio-visual clips for medical staff and encourage self-psychological adjustments
Set up mental center for medical staff and organize regular meetings for sharing experiences
Medical Observation Point Protocol

Photo: Mo Yangbao (R), a psychological counselor, gets to know the quarantined people's condition from other staff members at a medical observation point in Haikou, south China's Hainan Province, March 8, 2020. Local authorities have organized a group of psychological counseling workers to serve the staff members and quarantined people in medical observation points. (Xinhua/Pu Xiaoxu)
Create Healthy Mental Environment
Set up rooms in accordance with quarantine specifications and maintain smooth wifi connectivity
Provide psychological support resources, encouraging people in quarantine to study, conduct self-assessment and seek professional help if needed
Encourage people better adjust themselves to the timetable at the quarantine site and stay on course with their previous study and occupational plans
Encourage those who have recovered and been discharged to attend subsequent check-ups and gradually get back on track of normal life
Quarantined Pepople Psychological Assistance and Social Service
Encourage people in quarantine to keep in touch with family and friends to ease negative emotions
Pay attention to people's mental status and conduct further evaluation and intervention if needed
Give special attention to those who have lost their loved ones, experienced psychological problems or received psychiatric treatment, and provide prompt assessment and intervention if needed
Provide comprehensive care for people with special needs
Designate guardians for children in quarantine away from their families, ensure their safety while give mental support applicable to their ages
Work Staff Psychological Support and Assistance
Distribute books on mental support for community work staff fighting against COVID-19 and provide trainings
Distribute popular science educational materials to assist work staff to learn more mental health concepts and mood adjustment techniques
Implement online group counseling to alleviate pressure on work staff when needed
(Edited by Niu Huizhe with Xinhua Silk Road, niuhuizhe@xinhua.org)