Kenya has been actively participating in the Belt and Road construction and was one of the first African countries to sign cooperation documents on the Belt and Road Initiative (BRI) with China.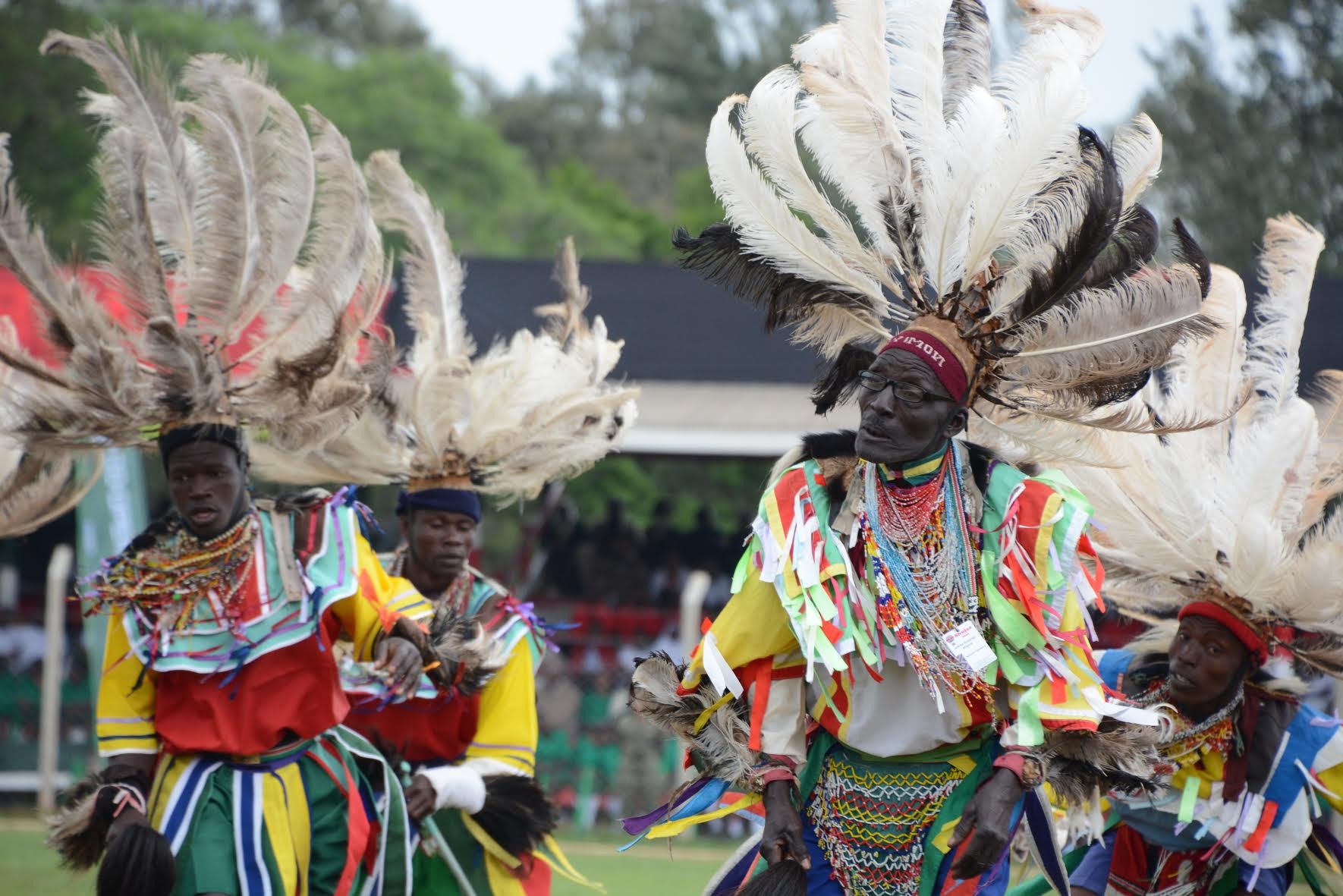 Photo: Traditional dancers from the Luo community perform a cultural song during the 54th Madaraka day celebration in Nyeri county, central Kenya, June 1, 2017. Madaraka Day commemorates the day that Kenyaattained internal self-rule in 1963, preceding full independence from the British. (Xinhua/Allan Mutiso)
Culture
Traditional African beliefs play a significant role in the lives of Kenyans in spite of adapting to modern values. Kenyans practice traditional values of humility, concern for neighbors and maintenance of kinship ties. Beliefs in superstition are not common except deep in the rural areas. On the other hand, there has been an explosive growth in the number of Christian churches and Islamic mosques.
There is wide appreciation of the importance of a modern education and most people speak English though with varying accents depending on ethnic origin. A typical visitor may be surprised at the contradiction in professing traditional and modern beliefs simultaneously. Several commentators have interpreted this characteristic of Kenyans as a lack of commitment to either beliefs. To the Kenyans, however, the two beliefs contain elements that compliment each other. Its not necessary for an individual to completely embrace modernity and abandon tradition, or vice-versa. What most people do (subconsciously) is to take the components from either set of beliefs that are relevant to their lives, and then combine them into a lifestyle.
Some communities have retained more of the traditional African lifestyle than others. They live in huts, walk barefoot, dress in robes and decorate their hair with colored soils. The Maasai tribe is famous for maintaining a nomadic way of life revolving around cattle and the search for pasture. This fiercely proud tribe of warriors has resisted numerous attempts at modernization and consequently has gained great respect (and curiosity) internationally.
A visit to the bustling cities, towns and villages of Kenya will be an eye opener to the determination of the people. Right from casual workers in sprawling industrial complexes to executives at the stock market and further onwards to the roadsides where men and women of all ages are earning a living for their families. Everyday has its fortunes: sometimes business is good, other times they walk home with nothing. Entrepreneurship is the locomotive engine behind these attributes of hard work and perseverance as Kenyans remain united in the quest for success and fulfillment.
Tourism
Kenya is a traditional tourist destination. Following the concept of tour, trade and then invest, the oldest recorded tourists to Kenya went with the aim of trading with the East African coastal settlements. Apart from the early Arab traders, on 28th February 1498, a Portuguese sailor, Vasco da Gama anchored his ship at the Kenyan coastal town of Malindi. On ones tour of Malindi today, a visit to Vasco da Gamas Pillar is a reminder of this historic early tourist!
The tourism sector in Kenya is an important economic activity committed to provision of high quality facilities and services for enjoyment by both the citizens and visitors alike. It is an instrument for promoting the economy in terms of job creation, good living standards and foreign exchange sources. Tourism further encourages international social integration through inter-cultural marriages and other interactions. Many Kenyans have encountered their life partners through tourism. Tourism therefore, plays a significant role in international social, cultural and racial understanding and tolerance.
Kenya offers a variety of tourist attractions which range from wildlife safaris, beach holidays, ornithology, camping and hiking to conference tourism as well as sports tourism. The latter includes golf, fishing, sailing, river rafting, cycling, marathons and bungee jumping. Kenyas tourism products and services can therefore be broadly categorized as based on natural, cultural, human and capital resources.
Source: www.kenyaembassyberlin.de