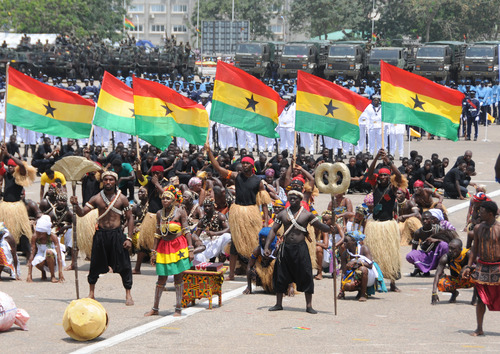 Photo: Members of regional culture troupes perform during Ghana's 60th Independence Day celebration at the Independence Square in Accra, capital of Ghana, March 6, 2017. Ghanamarked its 60th Independence Day at the Independence Square in the capital Accra on Monday, with a host of foreign dignitaries showing up to celebrate its position as the first Sub-Saharan country to attain independence. (Xinhua/Shi Song)
Economy
Ghana is richly endowed with human and natural resources. The latter include mineral wealth, extensive forests resources, sizable supply of viable land suitable for crop and livestock production, marine and freshwater fish stock and a good potential for hydro-electricity generation. The economy has traditionally depended on exports of primary commodities. It is also basically agricultural.
The Agricultural Sector employs about 60 percent of the labour force and contributes around 40% to GDP. Out of this, the share of the cocoa sub–sector is significant but crops and livestock remain the dominant activities. Next is the Services Sector , the fastest growing sector in the economy with a contribution of some 32% to GDP. This sector is driven mainly by government and to a lesser extent trade. The Industrial Sectors share of GDP is around 28% and has manufacturing and construction as the main sub-sectors.
Ghana is a member of the Economic Community of West African States (ECOWAS), a regional economic organization comprising a thriving market of 250 million people in West Africa. Formed in 1975, ECOWAS allows for the free movement of goods and people across the borders of its 16 member nations. Since its creation, implementation of the ECOWAS protocol on trade has greatly enhanced intra-regional trade as well as Ghana's status as an economic force in the sub-region.
Ghana's trading access to other African nations is expected to increase significantly in the coming years, especially as African nations move toward implementation of the African Economic Community, established by African heads of state and government in 1991.
Language
English is the official language of Ghana and is universally used in schools in addition to nine other local languages. The most widely spoken local languages are, Ga, Dagomba, Akan and Ewe.
Religion
Traditional religions accounts for two-fifths of the population. The Christian population also accounts for two-fifths of the total population and includes Roman Catholics, Baptist, Protestants, etc. The Muslim population (12 percent of the total) is located chiefly in the northern part of the country.
Source: www.ghanaembassychina.org