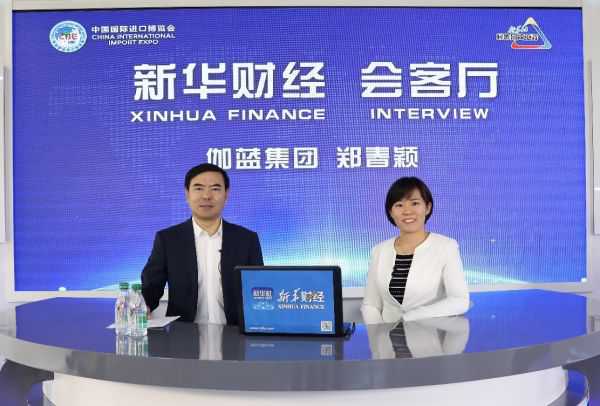 Zheng Chunying, chairman of JALA Corporation, accepts the interview of Xinhua Finance, a national financial information platform undertaken by the Xinhua News Agency. (Photo/Yi Ruitong)
SHANGHAI, Nov. 11 (Xinhua) -- JALA Corporation, a leading Chinnese cosmetics enterprise, has blazed a unique path featuring "technology plus art" to ensure the high-quality of its products, said the company's chairman Zheng Chunying in a recent interview, reported www.cnfin.com on November 9.
In order to produce high-quality products, the company proposed in 2011 a quality system covering 12 dimensions, namely vision, smell, taste, hearing, touch and inner feeling as well as compliance, functionality, safety, mildness, stability and compatibility, to measure the product quality.
In Zheng's opinion, cosmetics should be the perfect combination of technology and art, and the system is an innovative exploration on the definition of cosmetic quality.
The company has made sci-tech innovation the top priority, with the annual research and development (R&D) investment making up 4 to 4.5 percent of its total revenues. Besides, it has already mastered the world's leading cutting-edge technology in 3D skin model, outer space skin care research and epigenetics application.
Facing an increasingly international market space and industry atmosphere, JALA Corporation has made a strategy focusing on the Chinese market, product quality and global market operation and overseas market layout.
It is reported that the company had already tried to promote its products in more than a dozen countries and regions in 2018, including Australia, Thailand, Malaysia and Singapore.
This year, the company has set up an international division to embark on its overseas market layout which will be a focus of the company in the next year.
Besides, the company has deemed international exchanges and cooperation an important step towards internationalization. Earlier this year, it signed a cooperation agreement with Regent's Park College of the University of Oxford to carry out interdisciplinary academic research on the internationalization strategy of Chinese brands and co-organize related academic forums and lectures.
In the future, JALA Corporation will bring oriental aesthetic art to the world with a global attitude, gradually realizing the dream of "building China's own world-class brand", said Zheng Chunying. (Edited by Gu Shanshan)