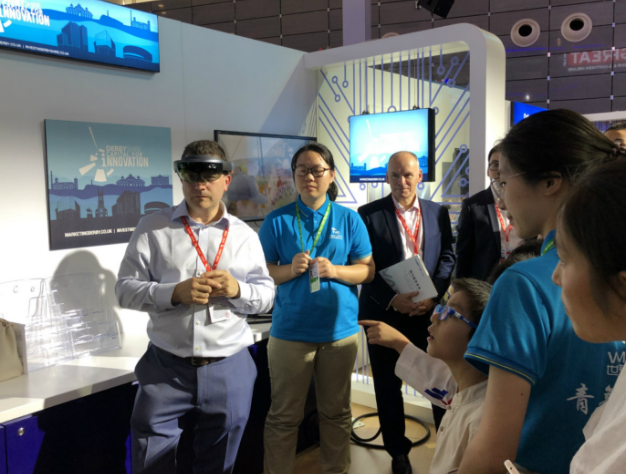 British participants demonstrate innovation products at the British pavilion of the World Manufaturing Convention 2019 in Hefei, capital of eastern China's Anhui Province, Sept. 21, 2019. (Xinhua/Gao Wencheng)
HEFEI, Sept. 22 (Xinhua) -- A senior official with the northern England Derby City Council praised on Saturday the "big step change" China has made in innovation and intelligent manufacturing at the ongoing World Manufacturing Convention 2019 in China.
The World Manufacturing Convention 2019 that opened Friday in Hefei, the capital of eastern China's emerging manufacturing hub of Anhui Province, is scheduled to run through Monday.
"I was in a very advanced factory here in Hefei where in the past I would have expected to see a lot of people making things, but this time it was a lot of robots and automation and then the people were supervising," Alan Smith, Derby City Council's head of economic growth, said.
"Maybe you're writing the software that was driving the machine," he said. "That's a big step change."
As the event's guest of honor, Britain has set up a national pavilion at this year's convention and organized a number of cooperation and exchange activities.
"We're trying to represent the UK here," Smith said at the British national pavilion. "We want to work cooperatively with China."
Since 2015, the host city of Hefei has formulated measures to strengthen cooperation and exchange with Derby city aimed at promoting the synergy of advantageous industries, and enhancing Hefei's opening up to the rest of world.
"I've been to Hefei for four times, and I've only been to China for five times. So that shows you," Smith said referring to his city's partnership with Hefei.
The four-day manufacturing convention, under the theme of "Innovation, Entrepreneurship and Creativity: Embracing the New Era of Manufacturing," brings together more than 4,000 representatives from over 60 countries and regions, according to the organizing committee.
Covering over 60,000 square meters, the event features 10 exhibition areas such as intelligent manufacturing and outdoor driverless vehicle exploration.
"I've toured the exhibition and I've seen lots of other Chinese innovation," he said. "This is a big change in the last few years in China."
On the rising anti-globalization sentiment, Smith said that "free trade is an important aspect of the relationship between countries."
For businesses to succeed in the world, "it needs to be selling all the way around the world, and if doesn't sell all the way around the world now, the business will die in the future," the official said.
Smith also hailed the "good quality" of Chinese products and gave some suggestions about branding and marketing for Chinese products in the West.
"More and more in the West, we can buy Chinese products that are good quality, and desirable brands as well," he said.