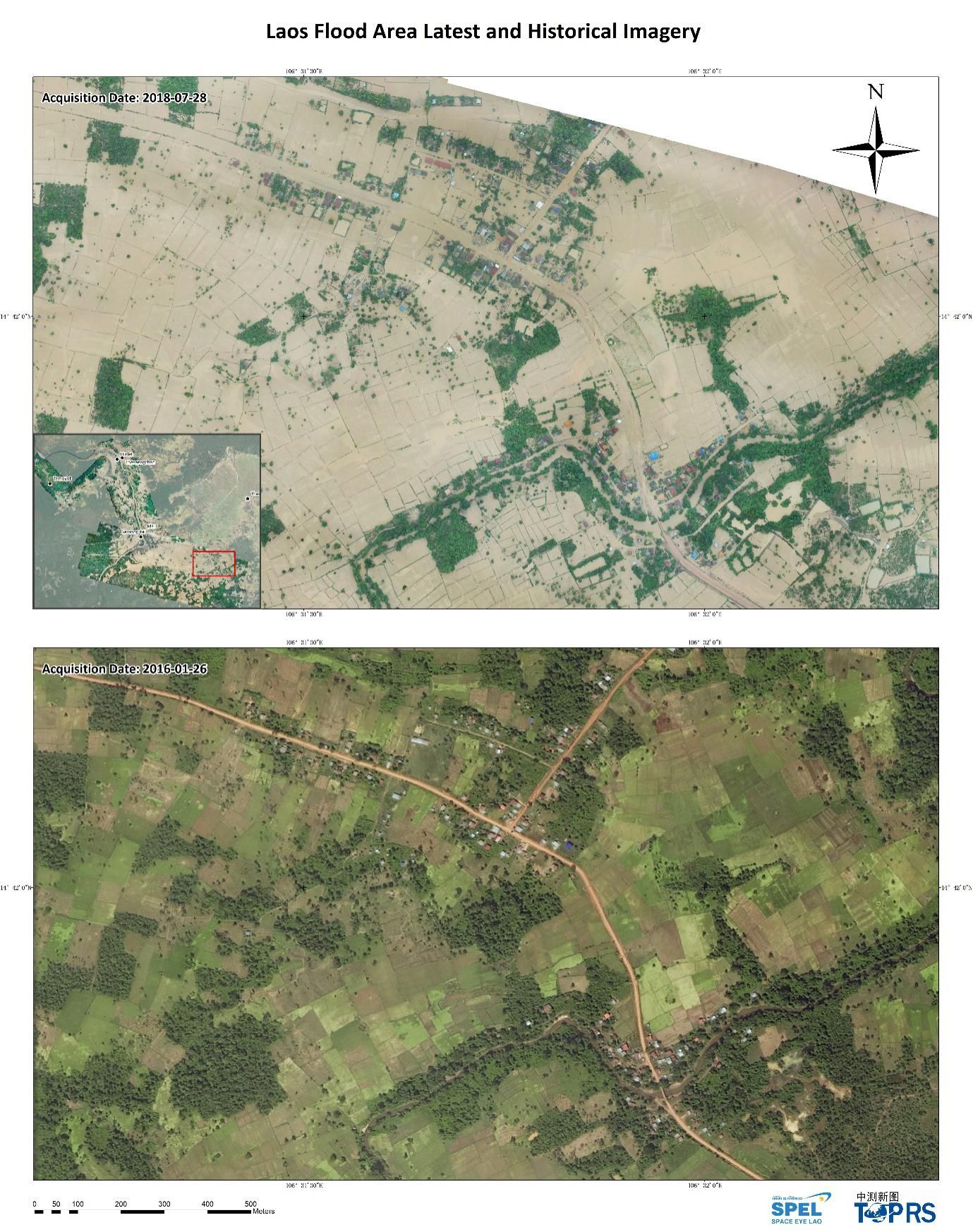 Images before and after the disaster, July 26, 2018. (Laos Space Eye Company)
BEIJING, April 23 (Xinhua) -- Laos was attacked by a flood at about 8 p.m. on July 23, 2018, which was the worst disaster of this kind in decades. An auxiliary dam of a hydropower station under construction in Attapeu Province collapsed, and flood water rushed into 13 villages in Sanansai County. Among them, six villages were seriously destroyed, causing serious damage to about 13,000 people and leaving more than 6,000 homeless.
As in remote location, only flat-bottomed boats and helicopters could access to the affected areas, where infrastructure was underdeveloped and roads were ruined by flood water. It was very difficult to carry out comprehensive rescue work, and urgent to formulate an effective disaster relief plan by making use of the limited disaster relief resources.
In the face of crisis, besides responsibility, enthusiasm and courage, people need a pair of "eyes" to see through the chaos.
Prior to the disaster, Laos Space Eye Company and its project partner China TOPRS Technology Co., Ltd. (China TOPRS) were implementing an international cooperation project on UAV control mapping technology in Vientiane. On the night of the disaster, with the formal approval by the Ministry of Natural Resources and Environment of Laos, Laos Space Eye Company and its partner set up an emergency task force quickly and rushed to the affected areas overnight to assist the Lao government and military troops in disaster relief work.
After arriving at the scene early the next morning, the Space Eye emergency task force and the Lao National Emergency Response Team checked out the situation and found that the disaster relief progressed slowly. Specifically, only blind search and some helicopter rescue were done under the turbulent flood and rainstorm conditions, which would delay the best rescue period.
"When we were preparing to launch an UAV, Somsack, commander of Lao Air Force of Ministry of Defense, stopped us, fearing that this would hamper the military's helicopter search and rescue," Lae, deputy manager of Technical Department of Laos Space Eye Company, who led his team to the affected areas, told reporters that "I explained to him that our UAV can capture the pictures with 5cm resolution in the disaster-stricken areas, which would surely improve the efficiency of rescue. He considered for a few seconds and gave us one and a half hour."
Subsequently, Space Eye emergency task force quickly worked out the implementation plan of UAV surveying and mapping, and chose to take aerial photographs in the four most seriously damaged villages in the heavy rain within the one and a half hour. After the first digital orthophoto images with 5cm resolution were taken, they were immediately handed over to the Lao National Emergency Command Team.
"Good! We will adjust part of the relief work according to these images." Somsack immediately made orders after seeing the clear images and understanding how they would help.
On the same day, the rescue team found that the images showed many affected areas which were not discovered previously. After the route was adjusted, the rescue team found many trapped villagers.
"I didn't expect that the data you provided would be so helpful for our command of the whole rescue operation. Such technology is really helpful to us. Thank you very much," Somsack told Lae.
It was said that, "the Laos international cooperation project for light and small UAV with few (without) control mapping key technology under the Belt and Road" is China's national-level international science and technology cooperation research project. Relying on the remote sensing platform of light and small UAVs, this project develops the UAV remote sensing system based on IMU/GPS/Beidou position and orientation technology. It also studies the technological process of UAV with few (without) control aerial photography and internal and external data processing in Laos. In addition, it carries out 1:2,000 UAV remote sensing data acquisition, processing and mapping application demonstration in Laos. All these contribute to solving the problem of large-scale mapping (1:1,000-1:2,000) by light and small UAV with few (without) control.
Major disasters, such as floods and earthquakes, often result in the interruption of information communication and road traffic damage in disaster areas. Therefore, the lack of information communication may lead to inefficient deployment of rescue and disaster relief, which will consequently cause greater losses and secondary disasters.
Aerial observation and intervention for the rescue work is the fastest and most convenient means, so UAV has become a powerful weapon of information-based rescue thanks to its good adaptability to poor environment, easy and massive patrol tour, multi-task load integration, infrared sensing and other advantages.
The UAV used in this rescue is an intelligent monitoring UAV developed and produced by China TOPRS. With a digital camera system installed, the UAV can take high resolution remote sensing images, providing first-hand remote sensing data for emergency surveying and mapping. At the same time, the UAV also supports high-definition video acquisition equipment and wireless digital image transmission system to acquire the videos of the disasters and large accident scene quickly and comprehensively. The UAV can adapt to various complex landing and take-off conditions, and can quickly assemble and perform aerial photography tasks in a short period of time.
In the implementation of UAV emergency surveying and mapping work, the Lao Ministry of Defense, Ministry of Natural Resources, Ministry of Science and Technology, Ministry of Electrical Power, Ministry of Energy, Surveying and Mapping Bureau of Ministry of Home Affairs and government of Attapeu Province all expressed their affirmation, support and thanks to the emergency surveying and mapping services provided by Laos Space Eye Company and China TOPRS.
At the same time, Laos Asia-Pacific Satellite Co., Ltd. (LAPS), a Sino-Lao joint venture responsible for the operation of "Laos-1" communication satellite, provided a large number of communication bandwidth resources of satellite transponders after the disaster to guarantee the emergency communications and live video broadcasting in affected areas. Meanwhile, the company immediately dispatched satellite communication technology and logistics teams to the most seriously attacked areas with many VSAT emergency communication terminals and single individual communication equipment, where they used VSAT terminals and "Laos-1" communications satellite Ku-band transponder resources to quickly build up emergency satellite communication links. A large number of audio and video data in the affected areas were transmitted back to the Lao government's commanding center in Vientiane to provide key decision-making reference for formulating and implementing disaster relief plans.
Through satellite network, LAPS also assisted Laos National Television to establish a live video channel to broadcast daily disaster information and cover the relief scene as soon as possible. LAPS also donated satellite television sets and supporting facilities to the affected people, so that they could learn the progress of external rescue and the situation in the affected areas, alleviating their tension.
Accurate information technology is not only a powerful weapon against disasters, but also an important engine in building a modernized country.
China and Laos have carried out extensive and in-depth exchanges and cooperation in the field of high technology, in order to promote the development of bilateral economic and trade cooperation and further promote Laos' strategy of "turning the landlocked country into a land-linked country" to synergize with the Belt and Road Initiative.
At the First Laos - China Belt and Road Cooperation Forum in 2018, "China Beidou + Navigation + Remote Sensing Information Servicing the Belt and Road" sub-forum attracted special attention from all walks of life. A lot of Lao spectators were impressed by China's UAVs, navigation and remote sensing technology exhibited on the event.
Many enterprises, including Laos Space Eye Company and LAPS, are introducing China's most advanced remote sensing and geographical information system, and global positioning system (GPS) technologies into Laos to develop local surveying and mapping and geographic information industry.
Promoted by the cooperation of the "Digital Silk Road", the exchanges and cooperation between China and Laos in the hi-tech field have provided comprehensive services to the Lao government, enterprises, projects and people. They have also provided strong support for Laos to gradually step onto the road of information development, improve its investment environment and realize the hi-tech and modernization development. (Contributed by Tang Yun, Rong Zhongxia and Zhang Jianhua, edited by Niu Huizhe)