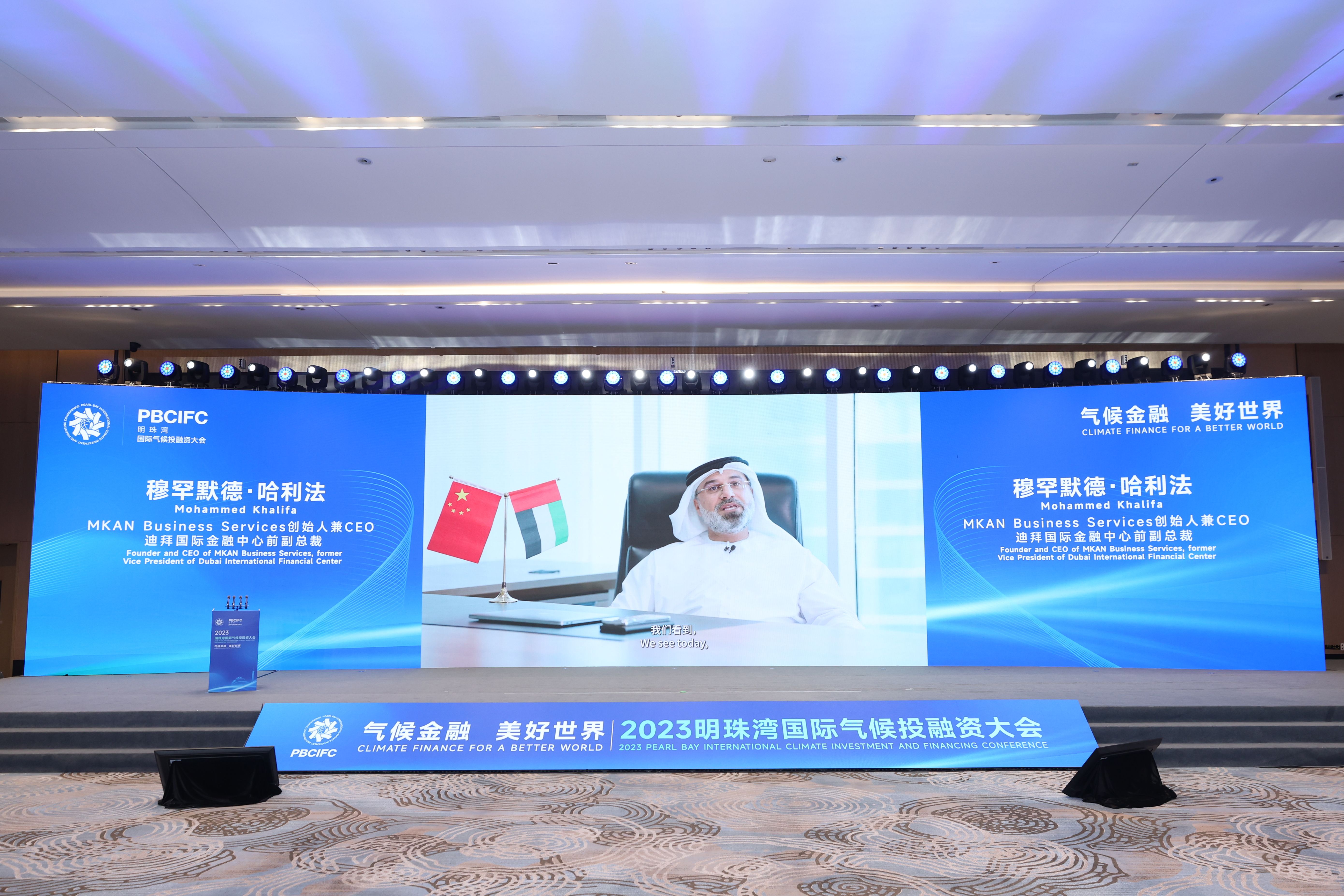 Photo shows Mohammed Khalifa is delivering video speech at the 2023 Pearl Bay International Climate Investment and Financing Conference
BEIJING, Nov. 17 (Xinhua) -- Environmental protection is an important topic, and how to rationally invest and finance renewable energy projects in the future is particularly important, said Mohammed Khalifa, Founder and CEO of MKAN Business Services and former Vice President of Dubai International Financial Center, in his video speech during the 2023 Pearl Bay International Climate Investment and Financing Conference held in Nansha District of Guangzhou, capital of south China's Guangdong Province Friday.
Mohammed Khalifa said that finance always talks about numbers, and people talk about how much they will get back from it. It is difficult to combine finance with environmental protection, renewable energy and clean fuels, while countries across the world should actively explore new models of climate investment and financing to boost development of renewable energy projects.
"I come from a country that is a desert, today the United Arab Emirates(UAE) is enriched by the fossil fuel, and UAE is investing heavily in clean energy so as to provide the world with clean energies and technologies," said Mohammed Khalifa.
In his speech, Mohammed Khalifa noted that UAE and China are working together on solutions for our future, as well as providing economical opportunities.
The conference is co-sponsored by People's Government of Guangdong Province, Xinhua News Agency and the Ministry of Ecology and Environment, and it is undertaken by the People's Government of Guangzhou Municipality, Xinhua News Agency Guangdong Branch and China Economic Information Service.
The conference sets up three sub-venues in Singapore, Paris and Dubai, aiming to further promote green and low-carbon industries development in the Guangdong-Hong Kong-Macao Greater Bay Area. It is learned that more than 300 representatives from all walks of life, authoritative experts and well-known scholars from government departments, international organizations, financial institutions, think tanks and other departments attended the conference.
(Edited by Bao Nuomin with Xinhua Silk Road, baonuomin@xinhua.org)