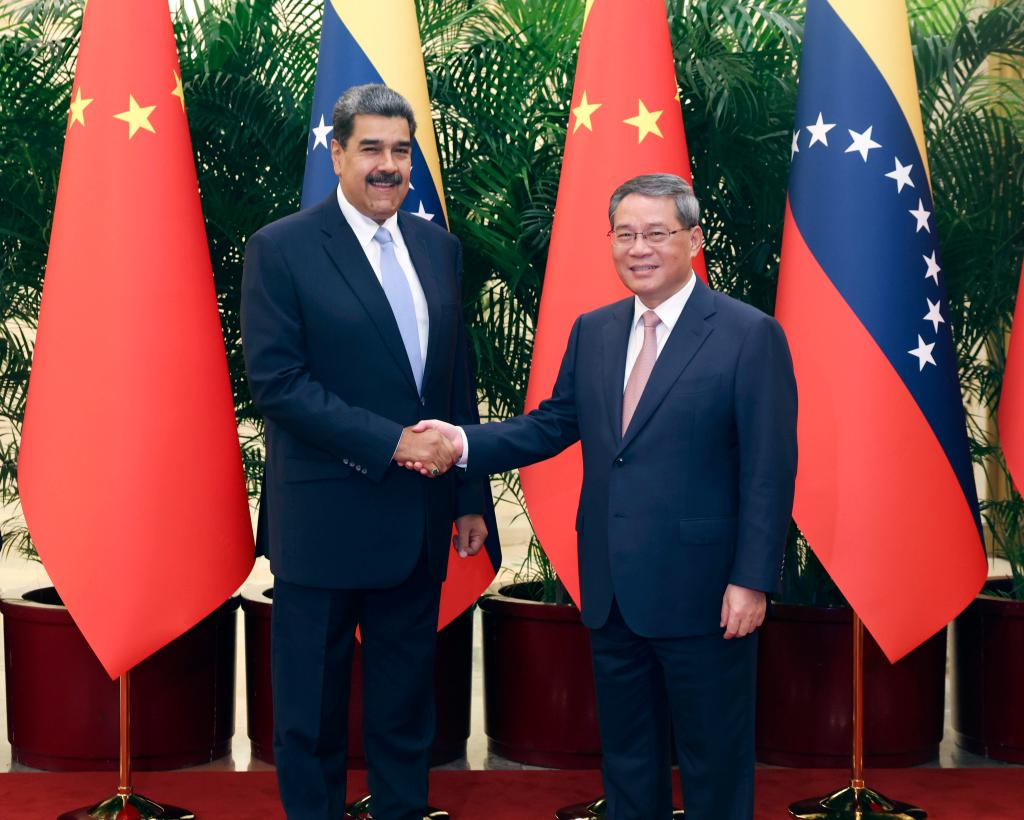 Chinese Premier Li Qiang meets with Venezuelan President Nicolás Maduro Moros, who is on a state visit to China, at the Great Hall of the People in Beijing, capital of China, Sept. 14, 2023. (Xinhua/Liu Weibing)
BEIJING, Sept. 14 (Xinhua) -- Chinese Premier Li Qiang met with Venezuelan President Nicolás Maduro Moros, who is on a state visit to China, at the Great Hall of the People on Thursday.
"The decision of the two heads of state to elevate the China-Venezuela relationship to an all-weather strategic partnership is an important milestone in the history of bilateral relations," Li told Maduro.
In the face of an international landscape with changes and turbulence intertwined, China and Venezuela should work together to deepen strategic coordination, appropriately respond to risks and challenges, and better achieve win-win development, Li said.
Noting next year will mark the 50th anniversary of diplomatic ties between China and Venezuela, Li said China-Venezuela friendship, trust, and cooperation would grow thanks to the strategic guidance of the two heads of state and the joint efforts of both sides.
Li said China will continue to firmly support Venezuela in safeguarding its sovereignty, national dignity, and legitimate rights and interests and oppose foreign forces' interference in Venezuela's internal affairs under any pretext.
China is ready to work with Venezuela to implement the Belt and Road Initiative, the Global Development Initiative, the Global Security Initiative, and the Global Civilization Initiative and strengthen the exchange of development experience, make good use of the Mixed Venezuela-China High-Level Committee mechanism, and deepen practical cooperation in various fields, the premier said.
China will coordinate closely with Venezuela in multilateral frameworks and promote the building of a community with a shared future for humanity, Li said.
Maduro said China is committed to peaceful development, follows a development path suited to its national conditions, and has made remarkable achievements, adding that China's growth benefits not only its own people but also the whole world.
Maduro said establishing an all-weather strategic partnership between Venezuela and China is "a milestone in the cooperation between countries of the Global South."
Maduro expressed support for the major initiatives put forward by the Chinese head of state and said Venezuela is willing to strengthen cooperation with China in the economy, trade, science and technology, agriculture, education, and culture to usher in a bright future for bilateral relations.