BEIJING, July 5 (Xinhua) -- Shenzhen municipal authorities unveiled the city's first fully liquid-cooled supercharging demonstration station as part of its "Supercharging City" initiative on the 2023 International Digital Energy Expo (IDEE) held on June 29 in Shenzhen, and announced a plan to build 300 supercharging stations for new energy vehicles (NEVs) within three years, equal to the number of existing oil stations.
The city, located in south China's Guangdong Province, pledged to make NEVs' recharging easier than traditional cars' refueling by 2030.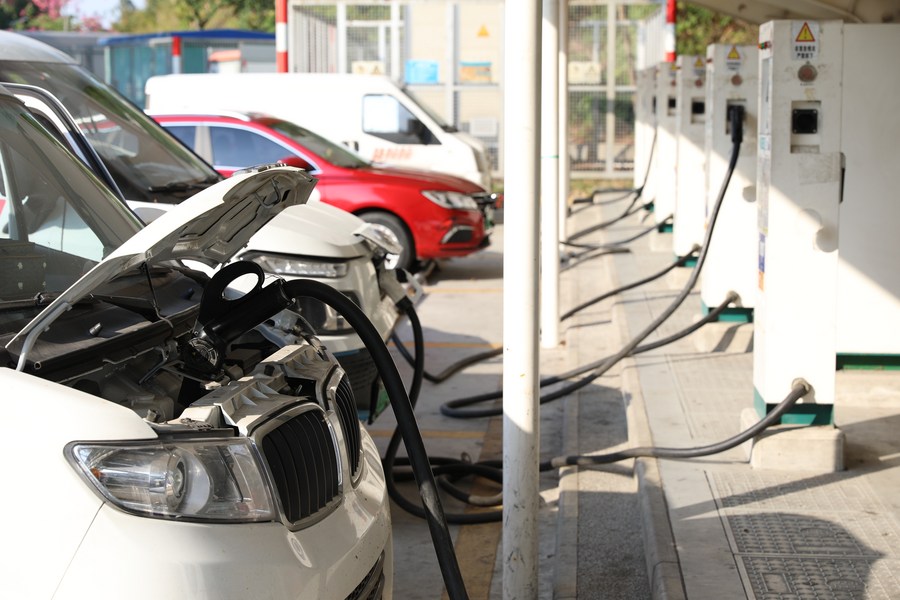 A new energy vehicle is seen charging at a service area along the Guangzhou-Shenzhen expressway in south China's Guangdong Province, Oct. 27, 2022. (Xinhua/Li Jiale)
Feng Yuebo is the General Manager of Shenzhen Power Supply Bureau of the China Southern Power Grid, a co-builder of the demonstration station.
According to him, the "supercharging" stands for a new technology that recharges a NEV faster than the earlier version fast-charging facilities. The supercharging station boasts a maximum output power of 600 kilowatts and a peak output current of 600 amps, and the charging speed can reach 1km/s at its fastest.

Experts from Huawei Technologies Co., Ltd., the technology provider for the demonstration station, pointed out that the full liquid-cooled supercharging solution provides speedy charging as well as great heat dissipation.
Compared to earlier version of air-cooled technology, the new supercharging solution has fewer damageable parts and better reliability, extending the service life of facilities to 20 years. Additionally, the process is a lot quieter as it doesn't need so many fans for heat dissipation.
As China's NEV industry develops further, the number of NEVs is on a steady increase. Statistics from the Ministry of Public Security show that by the end of 2022, there were 13.1 million NEVs in China. Therefore, it is time to build a charging network wtih more advanced and faster charging facilities and better distributed service stations.
Shenzhen, with its sound infrastructure, is well-positioned to become a "Supercharging City". Qin Weizhong, Mayor of Shenzen, stated at the IDEE that the city houses 860,000 NEVs, ranking among one of the top runners globally. In addition, Shenzhen is home to 24,000 new energy and digital energy enterprises, making it a pacesetter in photovoltaic, lithium-ion energy storage, and other cutting-edge technologies.
(Edited by Yang Linlin with Xinhua Silk Road, 15036033666@163.com)