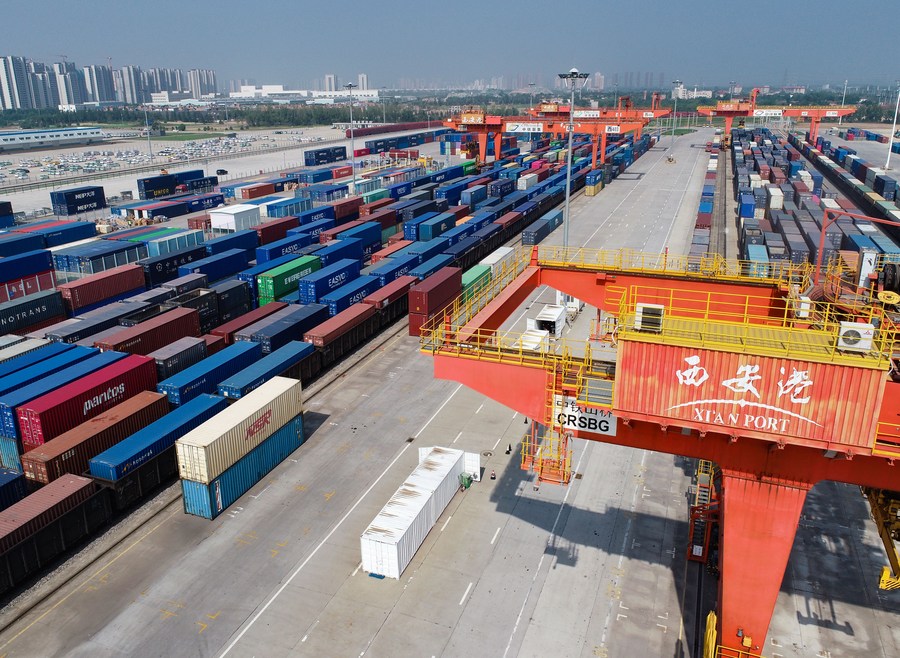 Aerial photo taken on July 29, 2022 shows Xi'an International Port in Xi'an, northwest China's Shaanxi Province. (Xinhua/Zhang Bowen)
BEIJING, May 23 (Xinhua) -- The Belt and Road National Metrology Center (Shaanxi) has recently inked a five-year action plan with the Kazakhstan Institute of Standardization and Metrology to carry out a series of cooperation in the field of measurement, reported Shanghai Securities News Monday quoting the Shaanxi Administration for Market Regulation.
According to the action plan, the two sides will carry out metrological training for employees in gas flow, physical and chemical quantities, and production of reference materials, exchange scientific and technological information, share experience related to the establishment of gas consumption standards, implement joint scientific research projects in the metrology field, and conduct technical exchange on metrological procedures and measuring instruments.
The plan is another fruitful result of jointly building the Belt and Road Initiative since the two sides signed a memorandum of understanding on cooperation in 2021. It will help facilitate personnel and technical exchanges between the two sides, further expand the areas of cooperation and raise the cooperation level, and provide high-quality metering guarantee for economic and trade exchanges between China and Kazakhstan.
The Belt and Road National Metrology Center (Shaanxi) is China's national metrological technology research institution serving the BRI. It aims at building an international metrological exchange platform, strengthening international metrological exchange and cooperation, serving the steady growth of foreign trade, and giving full play to the basic guarantee, technical support and quality guidance role of metrology to constantly improve the social contribution of metrological services.
(Edited by Gu Shanshan with Xinhua Silk Road, gushanshan.1987@163.com)