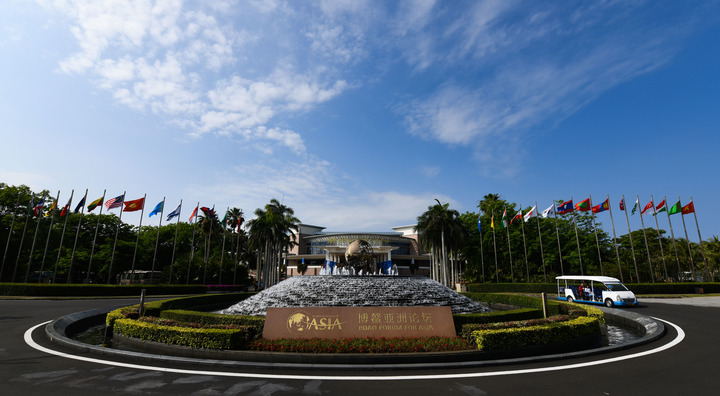 The Boao Forum for Asia (BFA) International Conference Center in Boao, south China's Hainan Province
BEIJING, April 4 (Xinhua) -- With the construction of the Hainan Free Trade Port (FTP) in full swing, more and more international partners have witnessed and deeply participated in the development and transformation of the Hainan FTP.
At the just-concluded Boao Forum for Asia Annual Conference 2023 held in Hainan, cooperation opportunities brought by the construction of Hainan FTP once again became a keenly-discussed topic at the forum.
In 2020, China released a master plan to build the whole of Hainan Island into a globally influential and high-level free trade port by the middle of the century. Since then, a slew of favorable policies have been issued to support the development of the Hainan FTP, including zero tariffs and easing market and foreign investment access.
Hainan is making efforts to guide the regional headquarters of multinationals to settle here, while implement the "going-out" strategy for local enterprises and accelerate their global expansion.
It is learned that at present, Hainan is building several cold chain logistics and trading centers to process and store tropical agriculture products for the Association of Southeast Asian Nations (ASEAN) to strengthen the connection between the two tropical-product markets.
ASEAN have become Hainan's largest foreign trade partner. In 2022, trade between Hainan and ASEAN amounted to 39.54 billion yuan, up 58 percent year on year.
In recent years, Hainan has also vigorously promoted institutional integration and innovation. Up to now, more than 180 FTP policy documents have come into effect, and a total of 134 institutional innovation cases have been unveiled.
Besides, an initiative calling for partnerships between free trade zones worldwide was launched at the Global Free Ports Development Forum during the forum.
The Hainan FTP joined 19 pilot FTZs on the Chinese mainland and six overseas FTZs.
Hainan is pushing ahead with the construction of free trade port, welcoming investors from all over the world with open arms, and sharing the benefits of deepened reform and opening-up.
Over the past five years, Hainan's trade in goods and services have grown at an average annual rate of 23.4 percent and 17.7 percent, respectively.
In 2022, the province attracted about 196 enterprises from RCEP members to settle business and meanwhile, a number of processing and manufacturing enterprises and projects have settle here successively. (Edited by Yang Yifan with Xinhua Silk Road, yangyifan@xinhua.org)