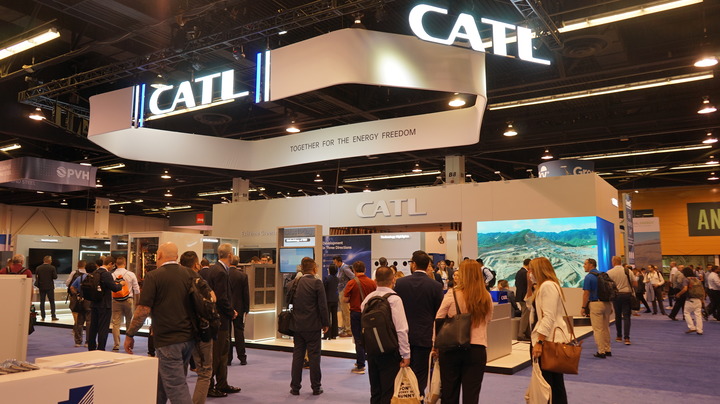 People visit the exhibition area of Contemporary Amperex Technology Co., Limited (CATL), a leading Chinese battery manufacturer and clean energy technology company, during "RE+ 2022" show in Orange County, California, the United States, on Sept. 21, 2022. (Photo by Zeng Hui/Xinhua)
BEIJING, March 28 (Xinhua) -- Chinese leading battery manufacturer Contemporary Amperex Technology Co., Limited (CATL), and HGP, a battery storage project development company based in Texas, the United States, have entered into a 450MWh battery storage project supply agreement recently, reported Chinanews.com on Monday.
Under the agreement, the two companies will establish a long-term partnership to drive up to 5GWh of utility-scale and distributed energy storage projects to meet the growing demand for renewable energy in Texas.
It is noted that the 450MWh battery storage project will be deployed in Texas and is expected to start commercial operation in 2024.
According to the agreement, CATL will provide HGP with EnerC, an outdoor prefabricated module system featuring with high safety, long life and high integration features, which has both IP55 protection and C5 corrosion protection and can adapt to various extreme weather.
Thanks to the integrated liquid cooling system provided by CATL, the safe and reliable operation of the project will be further guaranteed.
While giving full play to CATL's expertise in advanced battery technology and HGP's expertise in energy infrastructure and energy storage resources development, the cooperation will provide more convenient solutions to the market and fully demonstrate the firm commitment of both parties to achieving sustainable development. (Edited by Jiang Feifan with Xinhua Silk Road, 346129473@qq.com)