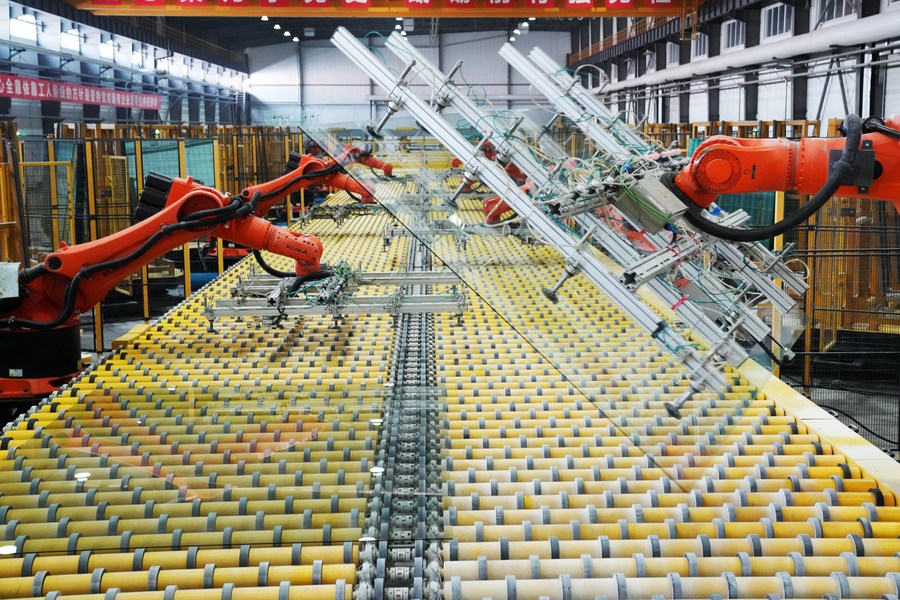 This photo taken on Feb. 17, 2023 shows robot arms working on a production line at a glass factory in Jiamusi, northeast China's Heilongjiang Province. (Xinhua/Wang Jianwei)
BEIJING, March 28 (Xinhua) -- China is one of the most important trading partners of many countries, and has been driving global economic growth since joining the World Trade Organization more than 20 years ago, reported Shanghai Securities News Monday quoting Jakob Stausholm, Chief Executive Officer of mining multinational Rio Tinto.
Stausholm made the remark during the China Development Forum 2023 which was held in Beijing from March 25 to 27.
China's opening-up has not only opened up a market, but also unleashed the energy, wisdom and dreams of 1.4 billion people, noted Stausholm, adding that therefore, the country is expected to make great contributions again this year to global economic growth.
Rio Tinto has been marching shoulder to shoulder with China on its course of opening up to the world for more than 40 years, providing minerals and metals to the country, including over 3.5 billion tonnes of iron ore, to help with its modernization, stated Stausholm.
Rio Tinto has also built pioneering partnerships with leading Chinese enterprises to jointly develop mineral resources in Australia and Africa, providing reliable resource supply with the highest environmental, social and governance (ESG) standards, he added.
(Edited by Gu Shanshan with Xinhua Silk Road, gushanshan.1987@163.com)